Keene State Security Calls, Cancels Police for Chalking
Yesterday I was out promoting the theatrical premiere of Derrick J's Victimless Crime Spree near Keene State College. I chalked the ground while Darryl held a sign with details for the screening. Security approached myself and Darryl after I had finished one chalking and was headed to complete the next one. While he approached us, you can hear him calling in re-enforcements from the Keene police, only to call them off within moments of conversing with me. Darryl happens to have a no-trespass order against him from KSC, for having gone onto campus with a friend in the past who was distributing unauthorized information, so he was careful not to accidentally step onto campus property. See the jovial encounter below. You can view photos of the chalkings in this entry from yesterday.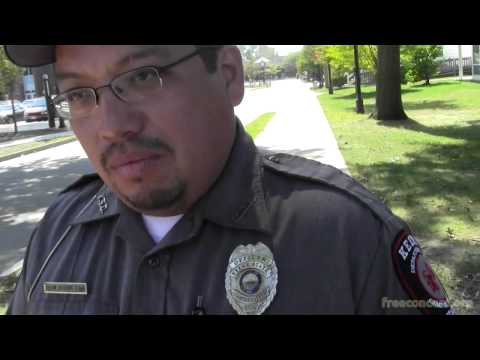 Want to discuss rather than just commenting here?
Visit the Shire Society Forum
.
Email your news tips and suggestions to multiple bloggers at News at FreeKeene.com