Cheshire TV Stars Meet in Series Crossover
August 14, 2013 by
Free Concord
Filed under:
Civil Disobedience
,
Cool
,
Free Concord
,
International
,
Laugh at the Aggressors
,
Living Free
,
National
,
New Hampshire
,
Outreach
,
Photos
,
Robin Hood
,
Satire
,
Victimless Crimes
,
Video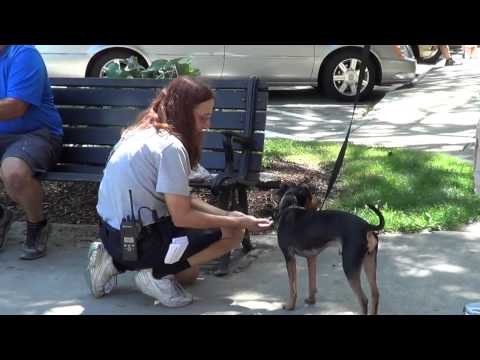 While Robin Hooding this past Saturday in Keene, there was much Cheshire TV series crossover occuring, as Merry person Garret was joined by Black Sheep Rising producer and
co-host Conan, as well as the mute miniature pinscher co-host Ji. Fans of the AKPF #1 series would be familiar with the parking enforcers who star in the program. The after-hours mature talk show, Black Sheep Rising, is well known for its mascot studio dog Jioto, or more simply known as Ji. While Ji was actively participating in Robin Hooding for most of the day, he did take a break to beg the friendly parking enforcer for treats. AKPF agent Jane satisfied his request before the impassioned young canine set back out to filling expired meters for his hominid comrades.
Want to discuss rather than just commenting here?
Visit the Shire Society Forum
.
Email your news tips and suggestions to multiple bloggers at News at FreeKeene.com