BEARCAT Controversy Continues in Concord
September 1, 2013 by
Free Concord
Filed under:
Concord
,
Copwatch
,
Corruption
,
Free Concord
,
Free Press
,
Govt. Schools
,
International
,
Issues
,
National
,
New Hampshire
,
News
,
Noncooperation
,
Occupy NH
,
Outreach
,
Personal Freedom
,
Photos
,
Police
,
Politics
,
Response
,
Thuggery
,
Update
,
Video
The BEARCAT issue in Concord festers further as the city council prepares for another hearing on the matter next Monday at 7:00pm. Today the Ridley Report published excerpts from a school board hearing which resulted in a decision by the ultimate propagators of all things 'for the children' — the Concord school board — to neither recommend nor block the acquisition of the federal government's Ballistic Engineered Armored Response Counter Attack Truck. Ridley's update includes B-roll footage from recent uploads to Fr33manTVraw as well as James Cleaveland's LightSpeedLiberty channel. An update in last Thursday's Keene Sentinel republished a Monitor article covering the board meeting and decision.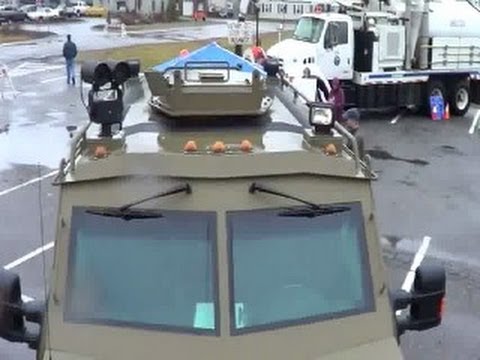 Want to discuss rather than just commenting here?
Visit the Shire Society Forum
.
Email your news tips and suggestions to multiple bloggers at News at FreeKeene.com