The Civil Disobedience panel at Keenevention 2013 was presented by the star of "Victimless Crime Spree" and the host of Peace News Now, Derrick J Freeman. The panel's focus was perhaps the most controversial form of activism – civil disobedience and noncooperation. Keenevention is certainly not the first time a civil disobedience panel has been presented at a liberty gathering, but it is the first time in many years that Russell Kanning, one of the original movers to Keene, returns to the stage! Russell was instrumental in making Keene the destination for future waves of activists who would emulate his peaceful disobedience. Russell was joined by another original Free State Project mover and liberty civil disobedience pioneer, Lauren Canario as well as yours truly, Ian Freeman.
Don't miss this excellent telling of Rich Paul's story over at the "Stateless Statements" blog by Philly activist Nicholas Shankin.
Thanks, Nick! I'm going to repost the text of it here to ensure it stays preserved: Read more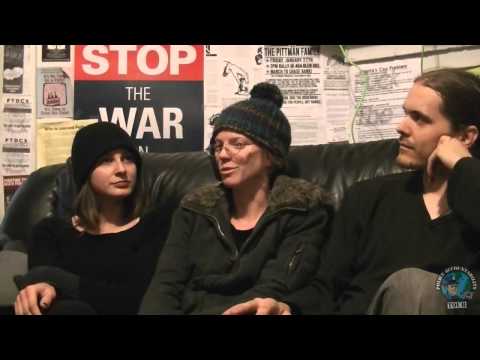 The Police Accountability Tour had the opportunity to meet with the creative individuals behind CopWatch of East Atlanta. Having been active in their area since the late aughts, the project established itself as a resource for the community, providing a phone number for people in need of a few individuals armed with cameras to reach out through. Following an experience-based set of collectively understood policies, CopWatch participants are also involved in other actions in the area, including Food Not Bombs.
Stemming from an incident in 2010, and complimented by a similar situation which occurred later, the Atlanta police department has now been specifically trained to permit videography and photography of themselves and their suspects and detainees from a reasonable distance. During the 2010 camera seizure, which helped shape CopWatch of East Atlanta's policies as well as the police's, a camera phone was taken from an activist by the police after multiple unlawful requests to terminate the recording. Eventually, the camera was wrestled away, and a revealing phone conversation with the property-seizing officer was documented and disseminated. The officer revealed that the person potentially videotaped being arrested may act as a confidential informant on an investigation. The camera phone would be returned on the condition that the police employee could be granted access to the footage and ensure its deletion. An audio recording of the telephone conversation would secure a $40,000 settlement for the group. Upon retrieving the footage, it was posted publicly in very damaged condition, possibly as a result of its poor handling in police custody, or through intentional sabotage. Since that time, CopWatch of East Atlanta has adopted policies to prevent the loss of objective documentation of a scene by working in groups, wearing uniforms, keeping distances between videographers, and observing numerous other safety precautions. Recently at the DeKalb County public library, the group offered to the public a know-your-rights training session. Read more
I have been filling in for a couple of normal Robin Hooder's while they are away out of The Shire. This afternoon, I had been noted that our green flyers and Robin Hooding "save" cards were going missing.  The original ticket(s) remained, but the literature I was placing on vehicles was vanishing. It seemed to me that Jane wasn't doing it, it only appeared to happen when Linda was around.
Sure enough, I waited near the Church in Central Square where I had noticed flyers on two different vehicles disappear twice previously. One of the vehicle owners came by and had just taken off the two tickets and the flyer I had just replaced minutes ago and walked into City Hall. When she left, the meter still remained in an expired state and I put a few nickels in and left a card. I waited nearby, Robin Hooding some vehicles after having seen Jane across the street. Suddenly Linda came around the corner and I saw her go to the car described before. She took the card out from under the wiper, and pocketed it. I wasn't video recording at the time, and this was the quickest I could get a video started.
Apologies if it seems like I'm angry, but that wasn't the case. I have to speak loudly in order for people to hear me, and I increased my volume as she was walking away. I didn't want to make her feel too uncomfortable, so I didn't follow her too closely during this video.
I had taken a few photos right before this incident, in an effort to try and document the alleged flyer thefts. They really prove nothing, since they just show the state of them after they had been re-flyered by me, so I'm not going to include them here.
Federal court cases have ruled that government employees don't have qualified immunity when they are infringing on your civil rights. Linda was present in the Robin Hood hearings where it was brought up that a previous instance of where the cards were being removed was an infringement of free speech rights. Maybe there's a lawyer out there interested in taking my case…
Celebrating 100,000 views on YouTube! Have you shared Derrick J's Victimless Crime Spree with your friends?
Some fun facts about the movie online:
#1 on Youtube for searches "victimless crime" and even just "victimless"!
#5 on Google for "victimless crime", #6 for "victimless"!
Almost a week after the Pumpkin Festival, and still no one has any clue who these unidentified men are. Keene Police confirmed that the 9 individuals are law enforcers, but of what agency? Who hired them?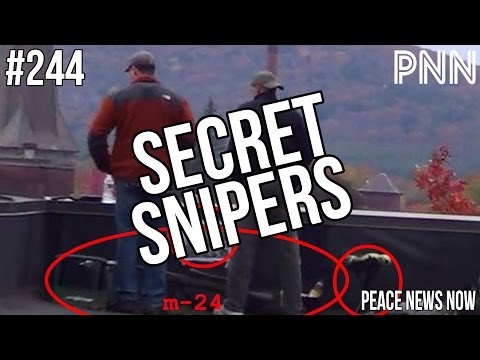 Your AKPF #1 installment this week Adequate Koexistence Personify Flourish is sure to spark continued controversy while informing the civilization of happenings in Keene and around the world. Airing October 14 2013 on Cheshire TV, AKPF #1 features the brave men and women of the Aqua Keene Parking Force official DPRK units exposing and documenting the activities of other central committee authorities and civilians. A Tribe Called Quest snags the intro music slot and rhymes on Midnight. Graham assists AKPF evening patrol featuring reflective safety vest. James and Garret reminisce on the solidarity building of the Occupy movement with pizza and cupcakes in Central Square after the end of the Free Battleground Keene Wars protests. In reflection, the scene of the first day of evidentiary hearings, August 12 2013 is recalled as James and Graham are sprayed with a hose by a bureaucrat trying to execute their chalkings. Robin Hood of Keene uncreative censorship by DPRK affiliates gets fancy pants all wet. Ji (Ji'e'toh Dog, co-host of Black Sheep Rising fame) contemplates a parking meter's utility to the pursuit of his joy. Ridley talks about Jesus interpreted by European standards as applied to Robin Hooding. Ridley ambush interviews the governor about state police misaction, governor Hassan, Margaret does not speak or acknowledge, declines to shake hands of united states military veterans. Chris Sununu encounters the Ridley Cam regarding singing songs in liquor stores and banishment de no trespass orders per NH Liquor Commission. Finally, DPRK officials claiming authority over the AKPF gather before court and Jester Mullins delivers an infamous monologue about putting the truth aside and doing one's institutional duty to "fight on that lie".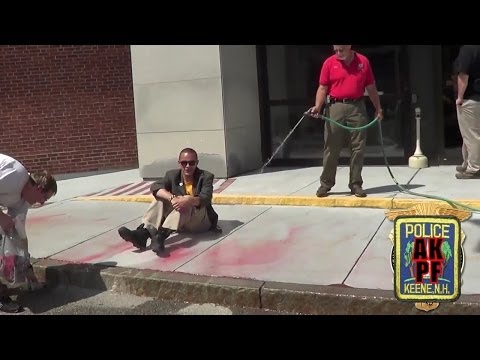 Read more
5 Keene candidates are running for local government. This episode of Peace News Now covers that issue and many more!
Premiering this morning, just in time for the latest courtroom extravaganza for Robin Hood and the Merry People is a new video short exclusive from the inner workings of city hall. Here, we see a desperate DPRK gathering of officials, feeling particularly revved for conflict as narrated by sanctioned media reports. Prince John and Jester Mullins star in this brief insight, with a revealing monologue being delivered by the jester at the end of the installment. "Don't matter who did what to who at this point. Fact is, we went to war, and now there ain't no going back. I mean, sh¡t, it's what war is, you know? Once you in it, you in it. If it's a lie, then we fight on that lie. But we gotta fight." If only public officials had an incentive to favor deescalation and conflict resolution over paperwork plunder.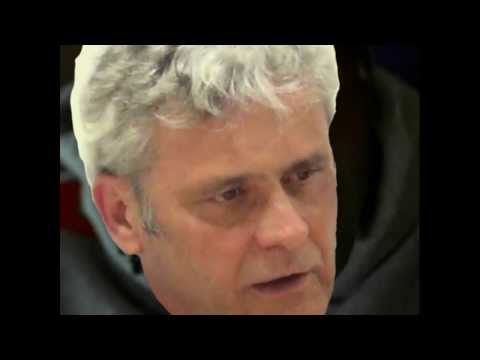 Derrick J's Victimless Crime Spree is back! The civil disobedience documentary filmed primarily in Keene has been re-cut by Derrick J himself in this 60-minute Film Fest Edition:
Please share!
Email your news tips and suggestions to multiple bloggers at News at FreeKeene.com