More proof of how effective the Free State Project is: the political establishment has teamed up to attack the FSPers running for town council and school board.
A hitpiece mailer has gone out to every household in Beford in a direct mail campaign with a two-sided, full-color flier that likely cost thousands to print-and-mail. This, after the duo of Matt Philips and Aaron Day were attacked on cable access television and in online emails. It's a nonstop attack against the FSP that merely vindicates further the strategy of combining activist efforts in one geographic area – the establishment is freaking out and the official move for the FSP has not yet begun!
I also love that the state-worshiping opposition has now paid to advertise the Free State Project to every household in Bedford. Awesome!!
If you love liberty, please join the Free State Project now and help us reach 20,000 participants sooner, rather than later so we can trigger the official move. Join the fun and the amazing community.
There's a new documentary film being produced by Free State Project participants called "101 Reasons Liberty Lives in New Hampshire". Here's a 5-min promo video for the upcoming movie that focuses on the Porcupine Freedom Festival, aka Porcfest, a week-long camping party in the woods of Northern New Hampshire:
This year's Porcfest is happening June 22nd-29th!
Liberty activists gathered just outside the Crowne Plaza Hotel in Nashua on the final morning of Liberty Forum 2014 to memorialize five innocent ducks who were run down by a drunken state representative. The story about the "duck vigil" was covered in both the Nashua Telegraph and the Union Leader.
Video footage will be coming soon. Stay tuned to Free Keene.
Here's the Nashua Telegraph story on Davi Barker's presentation on authoritarian sociopathy at Liberty Forum 2014.
Davi is one of the founders of Bitcoin not Bombs and is a participant in the Free State Project, though he has yet to make the move to NH. Here's the story in the Nashua Telegraph, thanks to photojournalist Bradford Randall.
Thanks to Bradford Randall of the Nashua Telegraph for featuring FK blogger Graham Colson's picture where he's smoking a joint outside the hotel at Liberty Forum 2014! The excellent article features activist Ryan Lange calling out the state of NH for their hypocrisy of selling alcohol while prohibiting cannabis.
Here's the Union Leader's feature story about Friday at the Free State Project 2014 Liberty Forum:
NASHUA — A legal adviser for Edward Snowden, a former National Security Agency contractor under fire for leaking global surveillance documents to the media, took the podium at the 2014 New Hampshire Liberty Forum on Friday to discuss her legal work with government whistleblowers.

Jesselyn Radack, a human rights attorney with the Government Accountability Project, is passionate about her work and ready to share her experiences with Free Staters from throughout New Hampshire and the rest of the nation.

"There is no such crime as leaking," said Radack. "We do have something called the First Amendment." Read more
Graham Colson's video where he is threatened by Emerson Lyons Jr., the son of the owner of Emerson's Towing, went up on LiveLeak.com yesterday and is already up to nearly 40,000 views thanks to it being featured on the front page of the site!
Early last week I left a message for the owner of Emerson's Towing, Emerson Sr., asking for an official statement on the incident. As of yet, I have not heard from him. It appears Emerson's has again taken down their facebook page again, however their Yelp entry isn't looking so hot in the reviews department as people comment nationwide. Will Emerson's continue to avoid commenting on this situation?
While other states like CT and NY have recently passed more gun control legislation, New Hampshire's state house today soundly defeated a proposal to ban all personal firearms sales! There really is no place like New Hampshire, where Republicans tend to vote for gay marriage and Democrats tend to vote against gun control measures! (If you love liberty, you should join the Free State Project and move here and get active!) Here's a rundown from Examiner.com:
Today was the big vote on HB 1589, a gun control bill brought forth by House Democrats. As has been previously discussed, this bill was based on false premises, bogus studies and statistics that did not apply to the Granite State. An amendment was brought forth by Representative Laura Jones which would require a study commission be set up to further study the bill. This amendment passed with 177-175 votes.

HB 1589 was officially amended to a study commission which was then voted on by the House in an overwhelming win of 242-118, essentially killing the bill. There was a further motion to be sure the bill was sufficiently dead and buried that then passed by 244-113. This was a defining victory for the gun rights activists in New Hampshire who have been working non-stop against the out-of-state gun control advocates who wrote this bill and were pushing for its passage. Read more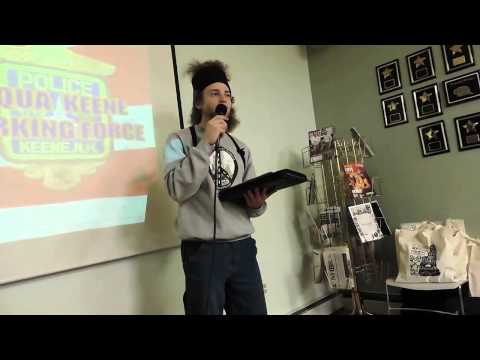 Straight off the press of the latest episode of AKPF #1, this persevering installment features historical footage from the Boston ATHF hoax of 2007 which resulted in a major press conference regarding hairstyles of the 1970s. The show also hosts discussions from a Chicago grassroots group responding to Obama's Union of the State address, and concludes with a discussion on wiretapping and the tactics of videographers working behind the scenes to produce the weekly AKPF #1 program.
Free Keene welcomes our newest blogger, Eric Freerock, Keene native and Cop Blocker. Here's his bio from the Bloggers page:
Eric is a Keene native concerned with the massive increases in the Keene property tax that has made Keene an undesirable place to try and own a house. Eric also hosts the Cop Block Radio Show on FPRNradio.com and is concerned with the ever- growing police state in which we find ourselves.
Email your news tips and suggestions to multiple bloggers at News at FreeKeene.com