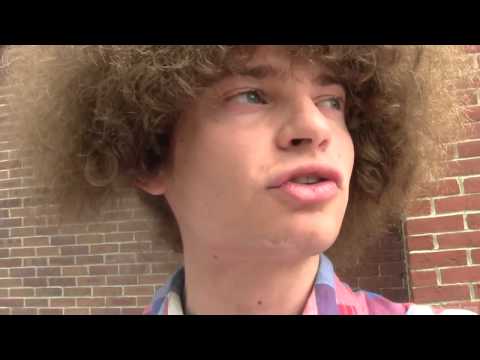 Today I took the initiative to do what lawyers do before taking cases before the court — discussing the matter with the opposition. After passing through district court security at City Hall, I headed upstairs to see if city attorney Thomas Mullins was available. We scheduled a time to meet tomorrow morning to discuss the world-famous Robin Hooding lawsuit. While not open carrying my camera at the time, Mullins laid down a non-negotiable prohibition on electronic recording as the condition under which he would be willing to have a dialogue. I find it unfortunate that city officials are not willing to be objectively accountable in dialogues regarding public matters, but I will be permitted to take at least written notes.
It's worth considering that City Manager Prince John MacLean has regarded Robin Hooding as inherently "harassing" since he made public statements collectively deriding its participants in a Keene Sentinel cover story dated 11 April 2013. Prior to and after this, not once did any representative of the city raise concerns about "harassment and intimidation" to the accused directly as is alleged in the six-defendant lawsuit.
The condition upon which I enter the dialogue tomorrow is that I represent no person except for myself, and that no person represents I but myself. Mullins informed myself that if I were to have paid a lawyer to field the case for me, that he would then be prohibited from having communication with me in any manner but through my attorney.
If you loved last week's debut of AKPF #1, you're going to be anxious for next week after you see the latest episode of Cheshire county's hottest new variety series. Now available through AquaKeene, Free Concord is pleased to present episode 02, Monolith.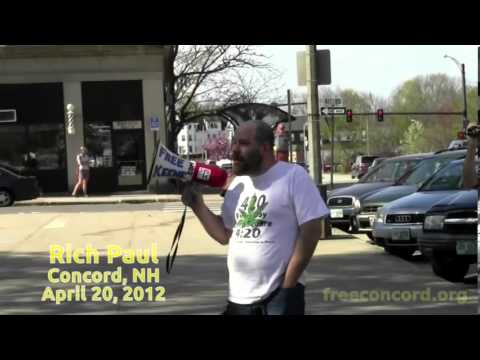 1. 00:10 Opening AKPF/ATHF Crossover Ska Theme
2. 01:40 Graham introduces the first submission by Trotting Bear Studios Martial Arts and Fitness Center

3. 02:22 Nintendo Mario Super Robin Hooding Video Game
4. 06:07 Fancy Pants People's science universe hour with special guest Michio Kaku
4. 14:09 The latest from the Rich Paul trial courtesy http://freeconcord.org
5. 28:22 Closing credits with Sarge Stern and MJ
Special guest host Graham Colson reps the AKPF #1. Ep. 03 premieres May 27 2013.
Prince John, on behalf of his court jesters and their enforcement units, has penned a desperate response to the global outpouring of support received by Robin Hood and the Merry Men following the royalty's frivolous lawsuit against us. Through a royal proclamation published in Saturday's Sentinel, the Prince builds upon his deceitful characterization of individuals that he first perpetuated in a Keene Sentinel cover story over a month ago. Prince John continues to demonize those who participate in Robin Hooding, conflating our actions to 'intimidation' and 'harassment'.
Considering the amount of self-righteous fluff sandwiching the Prince's sentences, royalty seems to understand the extent to which they have dug themselves into a hole with a baseless lawsuit against six activists. Whatever the city's true motives, we can trust in our leaders that this action had "nothing to do" with revenue. "The city has no interest in whether or not these or other individuals wish to pay the parking meters, and no claim about this practice is made in the legal action…This is definitely not about parking meter money. On behalf of your mayor, Kendall Lane, your elected city councilor, and your dedicated city employees, we are all honored to work for you and this wonderful community," MacLean assures. Fancying himself an omniscient ruler of his subjects, the Prince even alleges that he can peer into the minds of those he sues. Weaving two different interpretations of the motives of the Merry Men, the Prince begins, Read more
Three weeks from today, on Friday June 7th, 2013, at 1:30pm, friends of Rich Paul will gather to support him at the Cheshire County Superior Court in Keene for his sentencing event. Rich's story continues to make headlines across the land of liberty, and this is getting the spotlight on the sentencing in hope for a more positive outcome, and more help in fundraising for his appeal. Thank you so much to Garry Reed for this great article today on Rich's story posted on examiner.com ,  and an earlier Libertarian News Examiner article put out the truth of Rich refusing to wear a wire or entrap his friends for the FBI. Updates will follow between now and Rich's sentencing.
Thank you to Garrett Ean for his most excellent mashup video,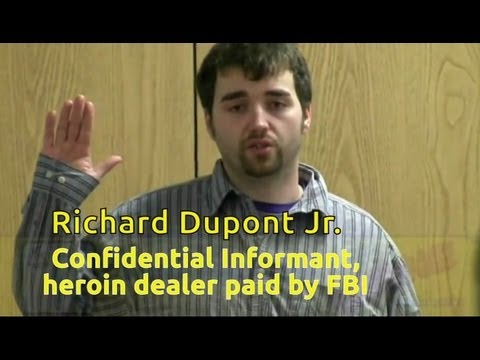 highlighting testimony from Richie the Rat Dupont Jr. to Phil the Perjurer Christiana and other detectives in between. Tune in to how they are each asked similar questions by Defense counsel Kim Kossick regarding who called who to begin this investigation into Rich Paul. Did the NH Drug Task Force call the FBI, or did the FBI call the DTF, and then lie under oath about who called who? Since Christiana could not admit under oath that he asked Rich to cooperate, in a similar way that Dupont had been asked to cooperate, then refused to answer questions about the Keene Activist Center, all of that testimony should be stricken, and Christiana charged with perjury and contempt. However, since we choose our battles, this may not be the one we choose, but the truth shall someday set Rich Paul free . . .      Read more
Thanks to the Keene Sentinel's Kyle Jarvis for the follow up story he wrote about the people calling themselves the "City of Keene" suing Robin Hooders. The story is on the front page, above the fold:
The city of Keene says its parking enforcement officers need protection against members of a local pro-liberty group, and has filed court action to do so.

The petition, filed earlier this month in Cheshire County Superior Court, seeks to establish a 50-foot safety zone around the officers to alleviate what the city terms "harrassing behavior." Read more
Thanks to Seth McLaughlin of the Washington Times for his report on the people calling themselves the "City of Keene" suing the heroic Robin Hooders:
The city of Keene, N.H., is suing "Robin Hood and his Merry Men" – a group that has made a name for itself by paying people's parking meters before they can get slapped with a ticket from local parking enforcement officers.
The Union Leader reported Tuesday that six "Robin Hooders" troll the streets of the city's quaint downtown in search of cars parked at expired meters. Read more
The question we have all been asking has been answered. When is Rich Paul's sentencing event?
Date: Friday, June 7th, 2013
Time: 1:30pm
Location: Cheshire County Superior Court, Keene, NH
All it took to answer this question was one person who loves Rich to walk into the court and ask, and to send him this much needed message. As of this moment, Rich's counsel has not informed him that the sentencing event is on the court calendar, and has not returned his last phone calls to her. Yes she is busy in another trial, State v. Next Victim, but a 10-minute phone call to Rich would be appreciated.
Well, the message has been sent, and just knowing when the sentencing event is happening makes a major difference in the mind and spirit of someone incarcerated indefinitely. Without knowing how this event will go, at least we now know Rich can begin his appeal by July 6th, 2013, if he chooses to go all the way in that direction. There is a great deal of comfort walking in to this sentencing event knowing that come what may, Rich has the will and the way to follow this through.
Will Rich get 81 years? Will they send him to Concord or Berlin? Will Rich get a year or less in Cheshire County? Will Rich get a suspended sentence? Will Rich get probation, work release, or rehab? Or all of the above? Will the prosecutor stick close to his pre-trial plea offer of "no jail time"? Or will Webb offer a post-trial punishment to Rich just for going to trial? And with Kissinger on the bench, what can we expect from the man who says to jurors, "You must follow the law as I have explained it!" It's a mystery making history. . .
Prepare for the worst, but wish for the best, and let's do be careful what we wish for. I am sending love to the moment in time, Friday June 7th at 1:30pm, when Rich Paul appears to hear his sentence. I wish that sentence would be, "You're not the droid we're looking for. You're free to go."
The Union Leader's Megan Pierce covers the news about Robin Hooders being sued by the people calling themselves the "City of Keene". Naturally, the commenters support the Robin Hooders.
KEENE – The city has filed a lawsuit against six citizens, part of a group dubbed Robin Hood of Keene that patrols downtown armed with video cameras and pockets full of change to fill expired parking meters.

Also known as Robin Hooders, the six are associated with the Free Keene group.

"They say video recording or talking to them is harassing them, but I don't agree with that," "Robin Hooder" James Cleaveland said of parking enforcement officers. "So they want to establish a safety zone of fifty feet."

Members of the group place cards under windshield wipers that read, "Your meter expired; however, we saved you from the king's tariffs, Robin Hood and his Merry Men. Please consider paying it forward," and includes an address where donations can be sent.

The group says the suit was filed because the city is losing revenue from parking tickets. The city says the activists are harassing its employees. Read more
(transcribed from a letter Rich wrote from jail)
Hey, everybody!
First of all, I'd like to thank all of those who have written to me and/or donated towards my commissary fund. It is  you who keep me going through these dark days, and in reality make them less dark…
My spirits remain high, despite my setback, and I have hope, still, for my appeal! I have been responding to every letter I have received!
The stakes on my appeal are much higher than just what happens to me. The primary issue on appeal will be the anti-nullification jury instructions which the judge gave my jury. A successful appeal will set a precedent for all future attempts at Jury Nullification… which is much more important than where I spend my next couple of years! If you care about Jury Nullification, please donate to this cause! Only appeals courts create binding precedent!
I hope to raise $6,000.00, which I realize is a staggering sum, but which will hire the best appeals guy in New Hampshire, I am told. He will be our greatest hope for future nullification.
I am also considering a hunger strike. Please let me know what you think of this idea by mail.
In Liberty,
Rich Paul
You can donate to Rich's Appeal Fund using Bitcoins, through GoFundMe, or by mail:
Bitcoins: 1EDcfhp6UJSNQV8sunnSXw4iFGLT1vEPmX
GoFundMe: http://www.gofundme.com/FreeRichPaul
Mailing address:
Rich Paul Defense Fund
75 Leverett St.
Keene, NH  03431
P.S.: Publicity is vital to raising awareness of this case, and to successful fund raising as well. If you have access to any pro-legalization, pro-nullification, or Libertarian celebrities, please, please, please bring my case to their attention. The attempt by the FBI to infiltrate the Liberty Movement with Agents Provocateurs is unsettling at best. This unconstitutional move against the Liberty Movement MUST NOT STAND! Remember that publicity for me is publicity for the FSP!
P.P.S.: Thanks to all who have protested outside the jail! My fellow prisoners were intrigued and the climate warmed toward me as a result! I hope that protests will continue through my stay! I love you guys, and appreciate all you have done for me and the cause!
P.P.P.S.: If you are an attorney interested in the case, but need to wait for a request to contract me, please consider this an invitation!
The city of Keene has filed a lawsuit (copy here) against me and several other people regarding robin hooding (Respondents).  Basically, the city wants the court to issue a "preliminary" and "permanent" injunction "restraining Respondents, or anyone under their direction, supervision, employment, or control, from coming within a safety zone of fifty (50) feet of any PEO [Parking Enforcement Officer] while that PEO is on duty." Additionally, the city wants to stop us "from video recording, within a safety zone of fifty (50) feet," and "from communicating with any PEO."
The city alleges that "Respondents have repeatedly video recorded, interfered with, taunted, and intimidated PEOs during the performance of their employment duties," which is ridiculous for several reasons, most importantly, according to the job description for a city of Keene parking enforcer, "This position requires a person" to "relate with the general public" and "Endure verbal and mental abuse when confronted with the hostile views and opinions of the public and other individuals often encountered in an antagonistic environment."
Send your news tips and suggestions to multiple bloggers at News@FreeKeene.com