Robin Hood and the Merry Men and Women are victorious over the lying, corrupt "City of Keene" in BOTH Robin Hood cases!  The first civil case was filed by "the City" back in May seeking a preliminary injunction against the six named respondents, in hopes banning them from being near, speaking to, or recording video of the parking enforcers.  It was heard over three full days of court "evidentiary hearings" later in the summer and afterwards, heroic free speech attorney Jon Meyer filed a motion to dismiss the case.
Attorney Meyer's motion has now been granted in a 17-page notice of decision from Cheshire "superior" court judge John C Kissinger Jr., which also dismisses the second civil case against us that was filed by "the City" in September,  seeking monetary "damages".  The second suit proved what we all knew and the city people had originally denied with their first lawsuit – that ultimately this was about their lost parking revenue.
Ultimately, the Robin Hooders have been completely vindicated.  The city people were lying (as is typical of governments) when they claimed Robin Hooders were harassing, intimidating, and threatening their parking enforcement agents.  Again, the proof that they were lying is that no Robin Hooder has ever been arrested for "harassment".  Even if Robin Hooders were saying nasty things (no evidence of that was presented in court, and I've never seen it happen), the job description of the parking enforcers makes it clear they must put up with "mental and verbal abuse" from members of the public.  The city people tried to illegally oppress our right to free speech and to hold government agents accountable for their actions, and the court made the right decision and dismissed their frivolous, aggressive, unconstitutional cases against us.
In the notice of decision, judge Kissinger notes that the free speech rights of the Robin Hooders outweigh all of the claims of "the City": Read more
Dave Ridley of RidleyReport.com visits Keene during Keenevention and encounters former candidate for city council and prolific commenter at Free Keene, Bradford "King of Keene" Hutchingson. Ridley confronts Bradford regarding his alleged assault of Free Concord & FK blogger Garret Ean and Bradford responds in a very bizarre manner:
Celebrating 100,000 views on YouTube! Have you shared Derrick J's Victimless Crime Spree with your friends?
Some fun facts about the movie online:
#1 on Youtube for searches "victimless crime" and even just "victimless"!
#5 on Google for "victimless crime", #6 for "victimless"!
Airing on this week's AKPF #1 timeslot is an unprecedented revamp of Dolus, a prior episode. The infamous CoK official DPRK video of the 'doctored' Robin Hooding is replaced with courtroom footage to put you in the action with cast and dedicated fans of the Aqua Keene Parking Force. Additionally, fans receive more content from amateur videographer Peter 'Sturdy' Thomas, who did not appear in the court proceedings. See for yourself why AKPF is #1 in the Robin Hood: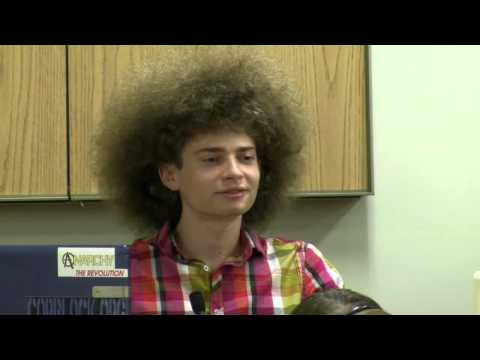 Since the lawsuit against Robin Hood and the Merry People was initiated in May, it seems Keene can't go too long without another story and additional coverage of the ongoing case popping up. In its Thursday, October 10 edition, the Keene State College Equinox published an article on the local oddity. Bethany Ricciardi penned the piece which features quotes from Robin Hooders as well as observations from the
student body. You can read the article through the Equinox's website or from a scan of the print edition.
A post on the website of famed conspiracy theorist David Icke today reported on the Robin Hood case using WMUR's coverage of the lawsuit produced in the days following its filing. Icke is known for advancing the belief that many powerful global figures are secretly a species of shape-shifting reptilians. Read more
At least least that's the jist of what I think ol' Fred Parsells is saying in this Letter to the Editor published by the Keene Sentinel on the 14th:
Since my earliest years, I have always been of the belief that the English folklore tale of Robin Hood was about a man and his band of merry men who stole from the rich and gave to the poor.

Fast forward 60-plus years and now I, and those of us who live and pay taxes in Keene, are confronted with a variation on the theme in that a modern day group of individuals, who have adopted the name Robin Hood(ers), are in my opinion stealing from the people of Keene, of which the overwhelming majority are surely far from rich.

Ward 2 City Council candidate James Cleaveland has taken public credit for creating this band of individuals who I believe are in effect stealing from far-from-rich Keene taxpayers in the form of increasing their individual property tax burden.

As many of you know, Read more
Your AKPF #1 installment this week Adequate Koexistence Personify Flourish is sure to spark continued controversy while informing the civilization of happenings in Keene and around the world. Airing October 14 2013 on Cheshire TV, AKPF #1 features the brave men and women of the Aqua Keene Parking Force official DPRK units exposing and documenting the activities of other central committee authorities and civilians. A Tribe Called Quest snags the intro music slot and rhymes on Midnight. Graham assists AKPF evening patrol featuring reflective safety vest. James and Garret reminisce on the solidarity building of the Occupy movement with pizza and cupcakes in Central Square after the end of the Free Battleground Keene Wars protests. In reflection, the scene of the first day of evidentiary hearings, August 12 2013 is recalled as James and Graham are sprayed with a hose by a bureaucrat trying to execute their chalkings. Robin Hood of Keene uncreative censorship by DPRK affiliates gets fancy pants all wet. Ji (Ji'e'toh Dog, co-host of Black Sheep Rising fame) contemplates a parking meter's utility to the pursuit of his joy. Ridley talks about Jesus interpreted by European standards as applied to Robin Hooding. Ridley ambush interviews the governor about state police misaction, governor Hassan, Margaret does not speak or acknowledge, declines to shake hands of united states military veterans. Chris Sununu encounters the Ridley Cam regarding singing songs in liquor stores and banishment de no trespass orders per NH Liquor Commission. Finally, DPRK officials claiming authority over the AKPF gather before court and Jester Mullins delivers an infamous monologue about putting the truth aside and doing one's institutional duty to "fight on that lie".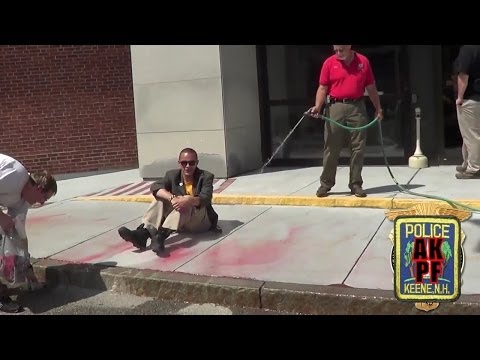 Read more
Pete, as you may be aware, is currently on the Cop Block "Police Accountability Tour". He just got back from South Africa and is now in San Francisco, where he was recently arrested for "jaywalking" when following police who were less-than-interested in identifying themselves. The cops claim he was a "pedestrian in the street" because Pete stepped off the sidewalk into the parking lane. He was in no way blocking traffic.
Regardless, though the police shut off Pete's camera at one point, his audio recorder continues. Despite Pete informing them they were being broadcast live, the police make the critical mistake of overlooking the audio recorder and proceed to speak what-they-think-is-privately once Pete is no longer around them. This conversation between the police begins at 5:11 in the video. They are paranoid that Pete may be a "sovereign citizen". They describe what they did to Pete: "We jacked him (laughs)"
My favorite part is when they dig through Pete's stuff and find the "Don't the the Plea Deal" flier. Officer Khuu exasperatedly says, "What is this junk? Don't the the plea deal… oh god, an anarchist."
There is also plenty of profanity from the potty-mouthed police, lots of "fuck him"s, plus they openly discuss charging him with something called "due process of id".
Pete was cited and released. Not sure when the court date is.
A new trailer for the evidentiary hearing videos from the lawsuit by the City of Keene against Robin Hood and the Merry People has published online as the raw footage becomes available through Fr33manTVraw. The segments are being prepared into hour-long consumable chunks for the viewing audience of Cheshire TV. Legal memorandae from both sides in the case were due yesterday and a ruling from judge John Kissinger is expected some time in the near future. Check out the Aqua Keene Parking Force's courtroom saga introductory promo embedded below.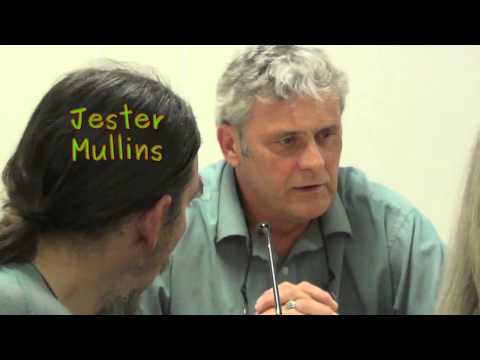 Local political trivialities are warming up as one candidate has gotten ahead of the curve in quickly releasing a mayoral race video entitled Bradford for Mayor through the independently organized Keene Unfancypants Party. The advertisement showcases Bradford's passion and drive to make a change in the Keene, New Hampshire city government. With no end in sight to politics as usual, Bradford offers choice to the citizenry in this year's contest for mayordom. You can see special edition videos of Bradford attacking Robin Hooders Garret and Graham on two separate occasions in February of this year from Fr33manTVraw. In the latter footage, Bradford stumbles into a parking enforcement officer before harassing Graham for filming the enforcer. Be sure to share Bradford for Mayor with all municiple voters you know – this election season, education is power!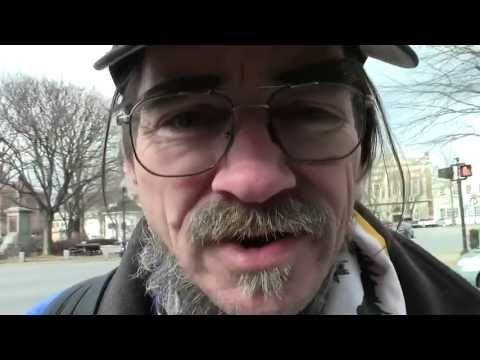 Email your news tips and suggestions to multiple bloggers at News at FreeKeene.com