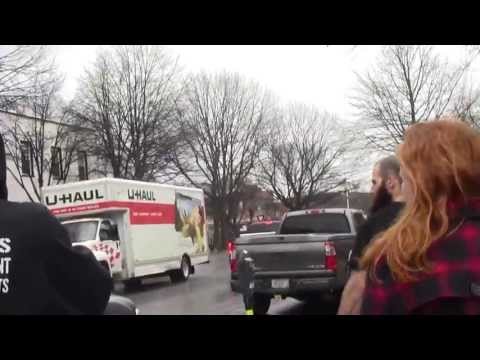 Today outside of day one of the historic trial of Rich Paul for cannabis distribution, myself, Pete Eyre, and Ademo Freeman had the opportunity to interview FBI Special Agent Phil Christiana. Earlier in the day, on the witness stand, Phil admitted to working for the joint terrorism task force, and was very reluctant to reveal any information about his asking Rich Paul to wear a wire. When asked directly why he was investigating the Keene Activist Center, he stated that he could not speak about the KAC. Coincidentally (or not) two weeks after Rich's arrest, city bureaucrats obtained a search warrant to inspect for smoke detectors and evidence of a 'lodging house'.
As he exited the courthouse following his testimony today, the three of us asked Phil about his investigations into peaceful people in the Keene area. According to him, Rich's case is the only time he has worked with the NH Drug Task Force, receiving approximately six calls for service from local and state agencies per year. His responses were brief and slick. When Kim Kossick, Rich's public defender, inquired why Christiana offered to drop charges if Rich would wiretap others at the Keene Activist Center, the agent responded that he was not at liberty to discuss an investigation relative to the KAC. Christiana has had an interest in finding informants within the New Hampshire liberty movement for a few years. He approached Dave Ridley in 2005 but ceased interacting with him once informed that everything he relayed to Ridley would be shared publicly. According to Dave:
My experience with him was that he was more or less polite and professional…but creepy. He came to the same Keene house when I lived there, to learn more about Russell Kanning's plans for civil disobedience at Manchester Airport's TSA checkpoint. Read more
To whom it may concern,
I am the Owner and Managing Editor of Free Press Publications which is a Registered News Organization with the SJC.
On the morning of March 20, I went to the Palmer District Court to attend and cover a hearing in the case of State v Ian Freeman. Upon arrival, I was told that I could not bring my camera & tripod, to which I responded, "I'm media, yes, I can," and pulled out the form that was sent to me via email from Erika Gully-Santiago (Deputy Public Information Officer).
The bailiff said that since I did not present him "the original" (something I don't have, as it was sent electronically) that he would need to have a judge verify the form, and that I would need to wait outside of the building.
After waiting for nearly 45 minutes, I was told I would need to fill out a motion which the judge would need to approve before I would be allowed through the security checkpoint; this time I was allowed to stand between the two sets of doors instead of waiting outside. In total it was almost 1 hour from the time I arrived at the Palmer District Court and the time I was allowed through security.
I have a few questions that I would like answered:
Is this the normal procedure for ALL members of the media, or is this treatment reserved for people who are not members of the big media companies?
As a Registered News Organization, why was I required to fill out a motion to film?
Is a motion required each time I wish to film a trial?
If a motion IS required each time I wish to film a trial, why must I be registered with the SJC?
If a motion is NOT required each time I wish to film a trial, why was one required today?
I anticipate your response with answers to each of the questions I've asked.
In Peace, Freedom, Love & Liberty,
Darryl W. Perry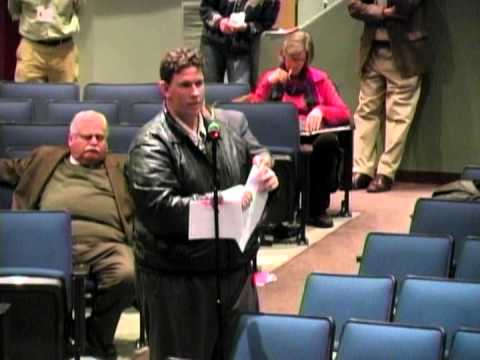 During the deliberative session on February 11, Darryl W. Perry raises some interesting questions on how the school is spending it's stolen revenue. The final question: "theoretically, the actual education of children could be funded without local property tax?"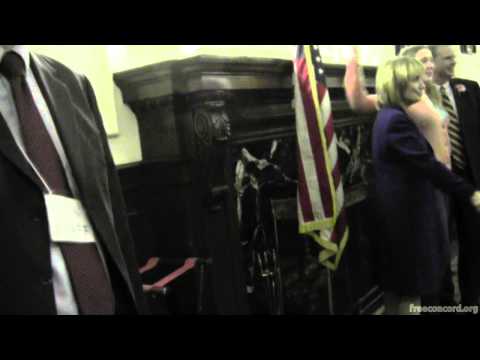 Yesterday was the inauguration ceremony at the state house and a number of other scheduled festive events to ring in the new administrations. After doing some promotional chalkings around the perimeter of the building, I headed inside and met with other independent media personalities visiting town from Keene. When we discovered a line outside of the governor's office, we were struck with the urge to file in.
A staffer noticed our rolling videocameras and informed us that the line was for a photograph with governor Maggie Hassan, but that she would not have time to dedicate to a videotaped interview. Darryl, Kate, and James decided to find other items to film, while I perused the posters featuring the event's corporate sponsors, which included everything from New Hampshire businesses to pharmaceutical multinationals.
It was a very rushed encounter, as most happenings with lines tend to be. I quickly asked after handing off my rolling camera and being flashed by still cameras, "Will you be doing anything to decrease New Hampshire's dependence on the United States federal government?"
"Uh, well, I think that's something we'll all talk about, thanks."
I picked up a cheesecake item and walked to the house chamber to listen to a colorful choir. Outside of the office, the line to see the new state president grew. In the lobby, chocolate bears were being distributed. It was a statist synthesis of Christmas and Easter, and there was free stuff to go around.
See also: Gov John Lynch Dodges Medicinal Cannabis Question (video)
The Cheshire County Candidates Forum was held from 2-4pm on October 16, 2012 in the Keene Public Library's Ruth Huntress Auditorium. Twenty-seven candidates were invited, nine attended. Candidates answered questions from the moderator and the audience. You can watch the forum in 6 parts on YouTube or in the player below.

Read more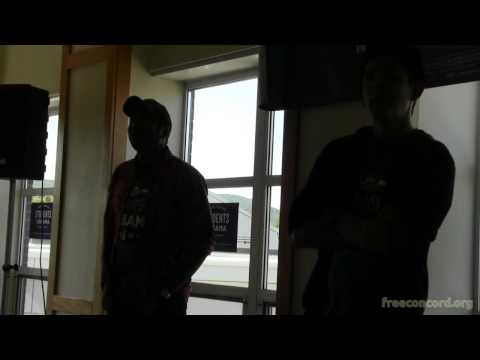 John Cho and Kal Penn, known the world over as Harold and Kumar, spent yesterday and today touring the state's colleges on behalf of the Obama reelection campaign. Of the eight stops on the two day tour, Keene was the only location in which the duo appeared together.
Harold and Kumar are an awkward choice for the young face of the Obama campaign. Their characters are a target of forces within the Obama administration which the president has done little to address. Campaigning in 2008, he had said that medicinal cannabis enforcement would be the lowest priority of his law enforcement. Under Obama, the United States has seen an increase in raids of medicinal cannabis clinics as well as increased enforcement against undocumented immigrants. While many expected change, the result was a slightly worse version of the same. Read more
It's been brought to my attention that the FBI has been snooping around the Keene area for several months. First they called in a fellow Free Keene blogger (who asked not to be identified) and asked him if violence was advocated amongst those who frequent the Keene Activity Center. The Free Keene blogger clearly told them they had the wrong people and that if violence was ever advocated, it would be rejected as a means to the end  by any real "Free Stater" (a term I use only as a way to identify a group, it should be understood that 'free staters', like everyone else, are individuals responsible for their own actions and thoughts).
Top this off with a few sketchy visits from new movers, who I now believe to be FBI agents or informants, and it's almost comical – if not so scary – how pathetic the FBI's attempts are at infiltrating the Keene Activity Center (KAC). One guy, 'Michael', came to the KAC for a visit (which is typical of new movers) and  after a long conversation – where I asked him directly if he was an agent of the state (he said he was not) – it was decided that "Michael's" views are not acceptable to those who frequent the KAC and he was asked to leave. He has never attempted a return but it should be noted that this man may still be trying to infiltrate liberty groups.
Fast forward a couple a months and the FBI – Phil Christiana – decides to interview another liberty minded person, Rich Paul. Known for his self ownership activism, relating to the war on drugs – particularly marijuana – Rich was targeted for allegedly making voluntary exchanges of substances the government deems illegal. Funny thing is, Phil and the state agent that was assisting him didn't even care about the drugs. What did Phil and the FBI want? They wanted Rich to wear a wire into the Keene Activity Center. Read more
This post was originally posted to CopBlock.org on May 15th, 2012.
Not too long ago a friend mentioned to me that man in Keene had gotten away with murder. From the conversation it was eluded to that the man had not been held accountable because he wore on his costume a "Keene Police Department" badge and a nameplate that said "chief."
I sought to determine the accuracy of the claim because 1) if someone had in fact gotten away with murder I'd want to do what I could to help set the record straight and 2) if true, it'd only underscore the perverse incentives inherent in the way "law enforcement" is supplied (and thus encourage those faced with the information to consider alternatives, especially considering that the person who presently has Qualters old gig requested an armored vehicle from the Department of Homeland Security).
My investigation didn't turn-up anything that substantiated or refuted the claim. If you have information that could help put this question to rest please let me know.
Still, I thought it wise to share an overview of the steps I took and the information gathered to make the process transparent and to perhaps acquire additional related information from someone with more knowledge.
During my involvement with representing Jason Talley, I was fortunate to have been anonymously contacted by several people whom were well versed in the law.  These people were invaluable to helping me help Jason escape imprisonment on what he believed to be corrupt court orders.
I recently heard from a law enforcement officer about an awesome judge in Carroll County who calls the jail on the weekends on her own accord simply because she wants to make sure defendants do not get held just because the court is closed.  She legally doesn't have to do that.  I think she probably does it because she is a good person who uses her authority to protect individual liberty.  I've never met this judge, but she sounds awesome.
With the Secret Service now investigating cocaine use by its agents in Columbia, I think it is a good time to point out some serious hypocrisy in the United States Code with regard to the 2nd Amendment.
Federal law in the United States makes it a serious federal offense to possess a firearm or ammunition if you are a user of illegal drugs:
Send your news tips and suggestions to multiple bloggers at News@FreeKeene.com