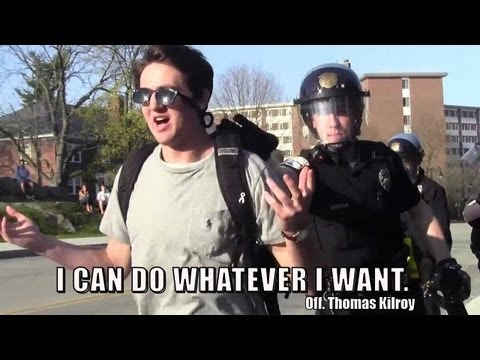 The fourth Occupy New England regional convergence was held this past weekend at the University of New Hampshire's main campus in Durham. The gathering brought together dedicated activists from around the Northeast to spend time workshopping, networking, and strategizing. In a twist of fate, riot police would descend upon the surrounding area as outdoor presentations on street medic effectiveness and bullhorn mastery occurred on the campus
green.
Presidential candidate Vermin Supreme was about midway through a session on de-escalating tense situations when chants of 'UNH, UNH' were audible from down the street directly across from the audience. Moments later, riot police appeared to be blocking the road off as students poured out of the area, many bearing cell phones in a manner suggesting that they were video recording. I wandered down for a closer look, and was surprised to see multiple officers carrying paintball guns, and others holding large canisters of pepper spray, most wearing helmets with face shields, gloves, and other protective gear (short of physical riot shields). Students were compliant with requests to stay out of the area, but were clearly agitated by what had previously occurred, several students reporting to have been hit and bruised by rubber bullets (likely pepperballs). From across the road, Vermin's voice amplified through his bullhorn, reminding everyone to stay calm, that this was only a test, and to ignore the man with the megaphone. The mood lightened lightly as the police froze momentarily and onlookers responded with laughter and applause. Read more
This article was posted on LadiesInKeene.com last night regarding the standoff in Greenland, NH.
Around 6:30PM, April 12th in Greenland, NH, five police officers were seen standing on the front porch and peering into the windows of 517 Post Road. The officers were at the home to serve a 'search warrant' as part of a 'drug related investigation.' Kevin Clay from WMUR reports: "Police went to 517 Post Road and entered the home. They were confronted by an armed suspect." A man who noticed the police officers on the porch and a cruiser on the lawn as he was driving by said that he then heard gunshots and saw police running away from the home. After the passerby pulled over to direct traffic away from that area, the cruiser went flying past him, presumably to the hospital with an injured officer.
A woman living across the street from the house said she was cleaning when she heard the gunshots and looked out the window to see four police officers running away from the house and three of them falling. More officers arrived very quickly and steadily continued arriving. The woman reported that an officer came to her daughter's bedroom window and told her that they needed to stay in their basement. Other neighbors were told to stay in their homes and as the area was blocked off, other residents were prevented from returning home.
As of right now, the standoff is still underway: helicopters, SWAT teams, and police officers from numerous areas throughout the state are present in the area of the home. Portsmouth Regional Hospital, where the five officers shot – one who did not survive – were taken for medical attention, is swarming with LEOs from dozens of departments.
WMUR reports, "That [male] suspect and a female were still inside the home Thursday night as police tried to negotiate a peaceful resolution."
It is very unfortunate that this incident occurred, and though many will blame the man who shot at police officers entering his home for the outcome of this interaction, he probably did not act with malicious intent. Reacting to an aggressor with force is commonly known as self-defense and generally viewed as acceptable and often applauded – unless the aggressor wears a badge or is deemed a "government official."
Sovereign Curtis, possibly best known for his arrest in Nashua at a 420 rally, or for being a main organizer of the Porcupine Freedom Festival, was in court today to face a trial on a violation charge. The complaint was based on an allegation that Curtis had started a fire on Hampton Beach without a permit, which would be against the town ordinance.
The State came un-prepared, and asked for a last minute continuance. This same request has been carried out many times by the Nashua Police Department in Nashua District Court. The presiding judge there has, without fail, granted the State's request. However, today in Hampton District Court, the judge upheld Curtis' request to have the charges dismissed due to lack of scheduling on the State's side.
The School Sucks Project outreach spreads all the way across New Hampshire to the Seacoast where the public library was successfully targeted with bookmarks promoting the School Sucks Project and Freedomain Radio. The Seacoast Online's Dave Choate reports:
PORTSMOUTH — Thousands of bookmarks promoting two organizations' points of view recently created a headache for public libraries on the Seacoast.

The two groups placing the bookmarks in Portsmouth, Dover and at the University of New Hampshire are the School Sucks Project and Freedomain Radio. The School Sucks Project Web site calls for an end of public, government-funded education in the United States, charging that it is ineffective and values obedience over creativity. Freedomain Radio bills itself as a philosophical radio show.

It's not a new phenomenon at libraries, but Portsmouth Public Library Director Mary Ann List said several in the area were hit recently with a scourge of bookmarks promoting an unspecified political cause between the pages of books. The messages tend to be politically or religiously focused, she said, and libraries typically strive to remain disassociated with that type of propaganda.

The latest dispersal was the largest Cathleen Beaudoin said she has ever seen. Read more
Email your news tips and suggestions to multiple bloggers at News at FreeKeene.com