As Ian Freeman blogged recently, Cheshire County cops are 10 times more likely to arrest blacks than whites for possession of cannabis. As reported in today's episode of Peace News Now:
This week's episode of AKPF #1 is again interrupted by global conspiracy. Presented this week is Aqua Kommunity Protest Forum, an elegant glance into the differing perspectives and tactics of the community in advancing peace, liberty, truth, and justice. No DPRK officials arrived in capacity nor royal intervention occurred, and although the program formatted for television is limited in its time to 29 minutes, the entire duration of the event from multiple angles is available from Fr33manTVraw.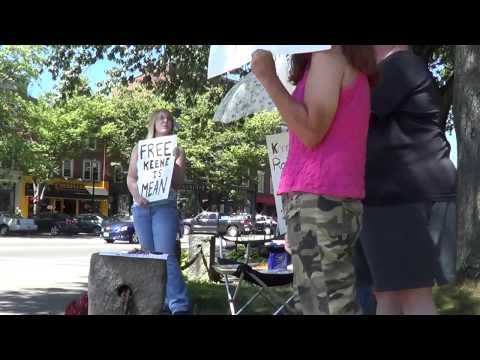 I had a weird experience while filming Robin Hood in Keene today. I was in the middle of recording when an angry man approached me, offered his opinions into my camera, and then threatened to destroy it. He stole the camera from my hands, and suddenly a man appears. Watch what happens next:
Click "Read More" to see the license plate of the car from which this angry man came:
It began with front page stories in the Union Leader and Keene Sentinel. Also in newsprint was a brief summary suggesting more coverage to come in the Concord Monitor. When the Washington Times ran a piece on the internet yesterday morning, articles began spreading like wildfire. It became a global story this afternoon after being picked up by the UK Daily Mail, which included screencaps and footage from the Fr33manTVraw channel. Robin Hood and the Merry Men have filmed four segments with competing television news programs as a result of the story's proliferation on Tuesday. In order of their recording:
A video report from CBS4 Boston. The video is also featured in coverage on Yahoo! News.
A video report from WMUR News 9. This video is also featured in coverage from WCVB Boston and Yahoo! News Canada as well as Yahoo! Screen.
A video report from FOX25 Boston.
A video report from WHDH 7 News. Video is the basis for this written report from NBC News Boston. Read more
Following yesterday's video of a presentation by Pete Eyre, today Free Concord presents footage from the premiere of the director's cut of Derrick J's Victimless Crime Spree. The director's cut is the street legal version of the film which appears on the recently released DVD, available through Amazon. While a theatrical release of the original cut of the film screened at Keene Cinemas in September, the February 22 screening at the Liberty Forum was the first public showing of the newer version. DVDs were also on hand for sale, which feature hours of bonus footage from related Shire activism. After the film, Derrick fielded questions from the audience.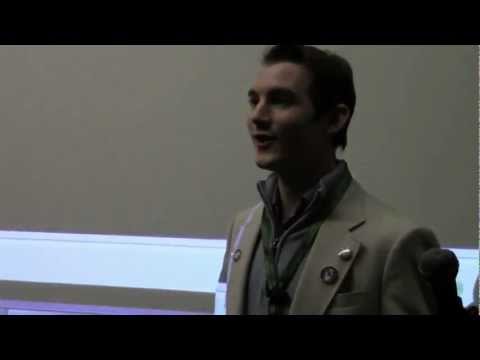 For the last month, I've been delighted to produce what I believe is the best daily 5-minute newscast anywhere. You've heard it on LRN.FM, but have you subscribed yet? Subscribing to Peace News Now is easy, cool, and free.

To subscribe on YouTube, just click this link.

Or, if you prefer audio only, you can subscribe on iTunes by clicking this link.

Below is the latest episode of Peace News Now. I usually include at least one story emanating from the Shire in each episode of PNN. This episode features James Cleaveland of FreeKeene's Robin Hood fame. Enjoy!
A Keene-area state representative laments the fact that, "there is, legally, nothing we can do to prevent them from moving here to take over the state, which is their openly stated goal." The Other; "them" in this instance refers to participants in the Free State Project, the political migration of liberty minded people to NH. Though the FSP has no central direction and amounts to little more than a promise to move together with like-minded others, freshly elected representative Cynthia Chase has classified her new neighbors as a threat. But not just any threat. "Free Staters are the single biggest threat the state is facing today," she opens with on a blog featured at the Blue Hampshire website. Continuing,
In this country you can move anywhere you choose and they have that same right. What we can do is to make the environment here so unwelcoming that some will choose not to come, and some may actually leave. One way is to pass measures that will restrict the 'freedoms' that they think they will find here.
One wonders how Ms. Chase plans to make the state "so unwelcoming" for libertarians in such a way that would not be unwelcoming to others. She tips her hand by opening in regret that political purges are illegal, but then suggests that she and her ilk can try.
Vanguardism on parade Read more
On December 13, 2012 I had a trial in Newport District Court for expired vehicle registration. Specifically, I was charged with violating RSA 261:40. For those who aren't familiar, Newport is a much smaller town than Keene. Normally in Keene, as well as Manchester, Concord and I would guess most other District Courts throughout New Hampshire, there are many people scheduled for trial at the same date and time. This was not the case in Newport. Aside from myself and seven others from Keene, the only people in the court were Trooper Hickox (who was prosecuting his own case), one bailiff, a court clerk and the judge.
Before the trial began, the judge issued an edict that only one camera would be allowed to operate during the trial, despite the fact that three individuals filed notices to record. He immediately took a brief recess so that the camera situation could be straightened out and stated that if a decision wasn't reached on which camera was to be the camera to record the trial, that NO cameras would be allowed.
Read more
On Saturday December 8, 2012 the Keene Police held an Emergency Vehicle Open House, where they showed off various vehicles from the Police Department as well as the Fire Department and Department of Public Works. Below are two of the many videos from the event.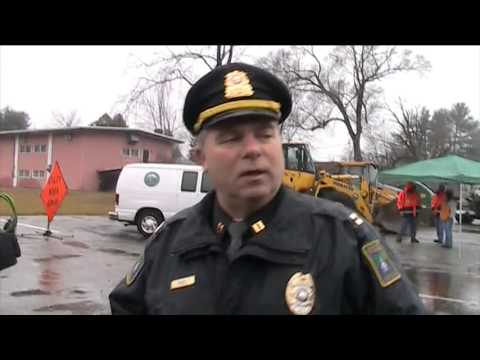 Read more
Here's a summary of my first full week at ADAM VS THE MAN made from a collection of blogposts originally posted to my blog. I made a quick "catch-up" video for the folks who are following along for my Exile Tour (my 2-year exile from the Shire). Here it is below:
Email your news tips and suggestions to multiple bloggers at News at FreeKeene.com