New England-based Great Eastern Radio has flipped Keene rocker 101.9 K-Rock (WKKN) to a simulcast of KIXX Country 100.5 (WXXK) out of Lebanon and also cut staff dramatically, to where Elise Valentine is the only member remaining. Valentine will still be heard during 3-7p afternoon drive on the "new" country 101.9 in afternoon drive.
With at least three country stations broadcasting from the area already, is another one really necessary? Apparently Great Eastern thinks so.
Great Eastern's other transmitter in the market, their sports talk station, "WEEI" 93.5 (WEEY) is a simulcast of Boston sports talker WEEI. It has zero local content and doesn't even have its own website.
This means Great Eastern Radio's stations "in Keene" are now being run by a skeleton crew of Elise Valentine and maybe a contract engineer. It's sad, but that's what's become of corporate radio – constant cuts and consolidation.
National radio operator Saga does deserve credit for doing a decent job with their station cluster in town, the Monadnock Radio Group. If Great Eastern thinks they're going to make compelling local radio by cutting costs and staff to the bone, they will probably learn their mistake hard and fast and possibly end up failing and sell the stations.
Meanwhile, local current-rock listeners are screwed as far as on-air options are concerned. Of course, they could always start up their own radio station with all the open channels on the radio dial in this area. All they have to do is apply for and receive a license from the FCC…
Oh wait – no, they can't. The FCC, according to local newsman Brad Ryder, has been sitting on a couple of station applications for nearly a decade! Ryder reports that he and the Monadnock Radio Group had applied for the same open frequency and the FCC has yet to decide to whom it should be granted.
You may be asking, "Why did they both apply for the same frequency?" Read more
FreeKeene Blogger Nick Ryder posts his video of Saturday's arrest and release of David Krouse and others.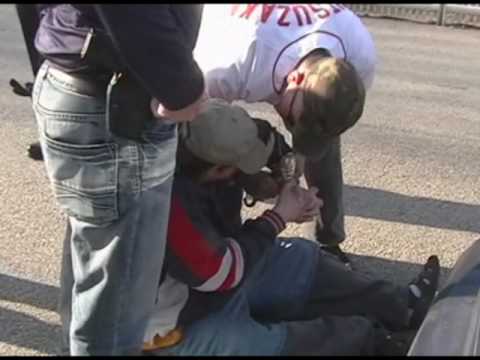 The story also made WMUR: WMUR Story
And the Nashua Telegraph: Nashua Telegraph
Two weeks before election day, the crew behind the campaign to elect Nick Ryder to City Council has released 4 promotional clips. They play back to back in the below embedded video:

Campaign staff will also be ramping up brochure distribution in the final weeks to spread Ryder's name and idea recognition. He is the only candidate bringing anything resembling a new perspective to the Council race saturated with incumbents and former councilmen. This is made clear when he is the only candidate that media hosts debate with during interviews.
For What?
That's the question Andrew Quemere was asking himself as he was walked from his workplace to the Keene Police Department this morning. Apparently arrested for loitering in the back of a truck. However, Andrew was assigned by his workplace to be in the back of that truck. While exercising his right to not show ID, Andrew does not appear to have been confrontational or aggressive; he simply wanted to get back to work.
But when officer Chris Simonds threatened to throw him into the parking lot pavement, Andrew followed the officers' commands and was handcuffed. Charged with "Obstructing Government Administration", he was released on $2000 PR bond and has an arraignment date of August 10, 2009.
More details are in the embedded video: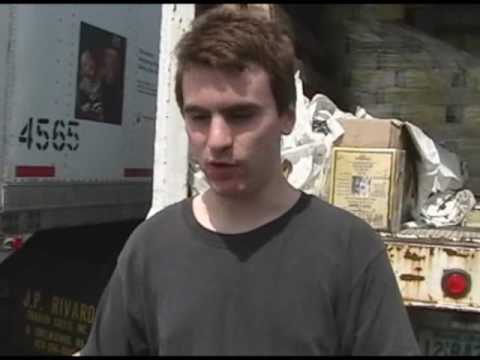 **Please see [Read More] for the answer to this question from Lt Maxfield**
Why, on April 12, 2009, did the Keene Police take this car off a private driveway? Was this an unwelcome visitor to this property? Was there an issue with the owner's temporary license plates? Was there "contraband" found inside the vehicle? It should also be noted that the car was driven to the flatbed, so the police had the car's keys as well.
Nick,

OK, I'm going to "address your concerns."
In an act of civil disobedience in response to a recent City Council decision to grant $5000 to a private organization for a food co-op study, Jesse attempts to start another public food source in downtown Keene. He was planning to till and supplement the soil downtown into land he could plant vegetable seeds in. Jesse says he did not want money or any other compensation for his work. He just wanted the public to have access to a garden. You can read about Jesse's plan in his own words on this recent FreeKeene post.
Fifteen to twenty minutes after Jesse arrives downtown, Lt. Shane Maxfield interferes with Jesse's work and arrests him. Jesse is booked at the police station, and released with a $120 ticket for violation of:
Sec. 82-32. Excavations.
(a) No person(s), company, corporation, or any other entity shall excavate or otherwise disturb any surface (shoulders, ditches, embankments, swales, pavement, etc.) of any city street, highway, sidewalk, right-of-way or city owned property without consent of the public works department. Any person(s), company, corporation, or any other entity shall restore such excavation or disturbance to a condition as good as before the excavation or disturbance occurred with the expense of such restoration to be assumed by such person(s), company, corporation, or entity. The work of excavation, disturbance, removal and restoration of the surface shall in all such cases be done under the supervision of the public works director or designee.
As reported by FreeKeene's Ian, Jesse says he will not consent to any fines, and will take the issue into the court.
On Thursday, March 19, 2009, Patrick Shields and Sam Dodson spoke to the city council regarding property taxes. While counselors may not have agreed with the words coming out of their mouths, there was no doubt that some were impressed with the forethought and planning that each put into his speech. At least 2 city counselors approached Patrick after the meeting and encouraged him to become even more involved in the city political system.
I think it is time that FreeKeene.com hold these people responsible for the votes they make, and make sure they feel the pressure from those of us that care about personal freedom in Keene. Hopefully this is only the beginning of our adventures getting to know the good and the bad going on in the council chambers.
In a well publicized and attended protest, Andrew Carroll held a small piece of marijuana near downtown Keene. His purpose was to illustrate in person how just holding a plant can draw unprovoked violence and kidnapping from government, an organization claiming to "serve and protect" the common man. Approximately 20 minutes after his protest began, Keene police officers showed up, and took Andrew away in handcuffs for "unlawful possession of marijuana." After being held by police for about an hour, he was released with a court date to enter a plea on a class B misdemeanor.
That court date is on March 3rd, at 8:30am in the Keene District Court. There is less than 2 weeks until then, and Andrew agreed to an interview to answer some questions about the upcoming day. While he will be attending his hearing, and possible trial, Andrew says he will not be preparing any legal defense, and says "Any statement I make in my defense will be a moral one; I won't argue legally because I'm clearly guilty of a crime."
For more information, see Andrew's interview below.
As a super-activist in Texas, Sam did not let government employees get away with breaking their own rules. He questioned the system from within it, and made judges, police officers, and city workers face tough questions about their jobs. By moving to Keene, he is now surrounded by people that will support him as he continues his efforts in New Hampshire. As he gets settled in and familiar with New Hampshire laws, expect FreeKeene.com support and report on Sam's activism.
Several months ago, a FreeKeene.com blogger posted a Notice to All Keene Area Government People warning them of Sam's impending arrival. Well, he's here.
More information about Sam, what he's done already in Texas, and his recent videos can be found on his website at www.obscuredtruth.com
After being praised by activists for making some positive choices, "Justice" Edward Burke from the Keene "District Court" appears to have slid back down the path to totalitarianism. In an "ORDER" (.PDF) issued today, Burke claims that video cameras are "disruptive of the proper and orderly administration of justice". He orders his subordinates to "require pool coverage" and apply the rule to "all court procedures conducted outside the courtroom or court facility".
He also has rescheduled the "trial" that they are demanding in regards to the Freedom Couch for Friday, Nov. 14th at 1:30p.
My interpretation of their legalese is that there is a chance that activists who show up to the "district court" in Keene with cameras on the 14th stand a possibility of being arrested for simply recording the court security procedure or the clerk's window. Read more
Email your news tips and suggestions to multiple bloggers at News at FreeKeene.com