It's like deja vu all over again. The last blog I wrote for Free Keene detailed how the MPD had chosen to ignore the constitution in favor of the enforcement of a city ordinance, specifically a park curfew. This time they're using a zoning ordinance about signs to squelch protest.
July 18, 2013 was National Chalk the Police Day. Several Keene activists went to Central Square, and then to the sidewalk in front of the KPD "Satellite Office" across the street from the Square. Those who attended chalked pro-liberty messages, and had some pleasant conversations with people walking through the area. And, it wouldn't be Chalk the Police without an interaction involving a Police Officer.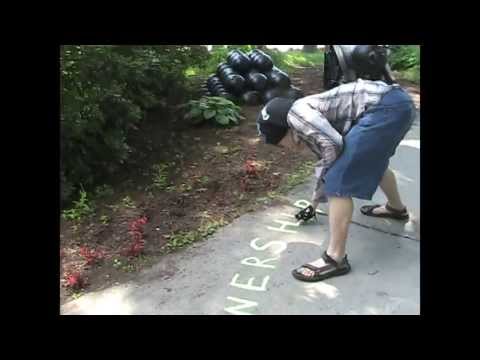 Read more
Re-posted from FR33MAN.TV:
Recently I surprise-hosted a brief episode of AVTM LIVE! when the AVTM Studios were visited by the local Zoning Enforcers. They alleged that a party complained about excessive occupancy, and that they were seeking consent to enter and "inspect" the house.

Here is a video compilation I made from all of the available footage from that afternoon.
This Wednesday at 1pm I'll walk into district court in Manchester, New Hampshire so a judge can decide when I'll go to jail. Why? Well the start of all this was June 4th, 2011 when I used children's chalk on a police station. Since then I have been found guilty at a trial by judge. Wanting to speak to a jury, I appealed.
Have you ever seen a person run over by a tank? If you are old enough you would have seen this happen in Tiananmen Square in China 23 years ago. I was just a young girl when I sat horrified watching this unfold on the tv screen. I had never seen anything like it. I never imagined that a government could do such a thing. This incident was televised all over the world and painted the Chinese government for the thugs and murderers they were and still are. Fast forward 23 years and governments haven't gotten any better, only worse. Now people have to worry about unmanned drones flying over their houses and killing them all. Boeing is developing the next generation of drones: Vulture solar drone that stays in air for 5 years. Police brutality is on the rise everywhere. The u.s. congress and the president have enacted more draconian laws such as NDAA. The u.s. is currently still engaged in two failed wars in Afghanistan and Iraq. There is fear mongering and war rhetoric in reference to Iran and now Syria.  I thought the Tianenman Square incident was the worst it could get. Goodness me, how was I so wrong?
On a happier note, today marks the 13th birthday of my wonderful nephew Llandry! Happy Birthday! Aunt Ellie loves you!
This post was originally posted to CopBlock.org on May 15th, 2012.
Not too long ago a friend mentioned to me that man in Keene had gotten away with murder. From the conversation it was eluded to that the man had not been held accountable because he wore on his costume a "Keene Police Department" badge and a nameplate that said "chief."
I sought to determine the accuracy of the claim because 1) if someone had in fact gotten away with murder I'd want to do what I could to help set the record straight and 2) if true, it'd only underscore the perverse incentives inherent in the way "law enforcement" is supplied (and thus encourage those faced with the information to consider alternatives, especially considering that the person who presently has Qualters old gig requested an armored vehicle from the Department of Homeland Security).
My investigation didn't turn-up anything that substantiated or refuted the claim. If you have information that could help put this question to rest please let me know.
Still, I thought it wise to share an overview of the steps I took and the information gathered to make the process transparent and to perhaps acquire additional related information from someone with more knowledge.
Post originally published to CopBlock.org
UPDATE: Mon. May 14th 5:20PM
Kate was found guilty of "resisting" by a Manchester Superior Court jury today. Her previous "sentence" from district court was 90-days suspended for two-years. Her new "sentence" is 30-days suspended for 30-days.

It's good that the threat hanging over her head is now lessened and that outreach was done and ideas shared but bad that Kate had to even allocate any of her time to such a situation.
On June 4th, 2011 eight 'shire-based activists were arrested while at a pro-police accountable rally outside the Manchester, NH PD (603-668-8711). The incident became known as the Chalking 8. One of the eight arrested was Kate Ager.
Kate had been heading to Manchester to visit a friend. On the way, she learned that her friend had been arrested outside the Manchester Police Department so that's where she headed. She parked and as she approached, saw a number friends holding signs as well as a number of Manchester PD employees nearby.
Eighty-seconds after stepping onto the sidewalk she was asked by Manchester police employee John Patti to "get off the chalk." Ten seconds after that, when attempting to ask a question about the order, she was given her "last chance." Ten seconds after that Patti told Kate that she was "under arrest" as he and colleagues swarmed Kate, handcuffed her, and put her in a cell.
According to the Keene Sentinel:
A man was shot by police and killed after a pursuit in Keene late Tuesday night, authorities said.

The incident began at Diversified Computers at 255 West St. in Keene, where police were called for a burglary complaint, according to a news release from the N.H. Attorney General's Office.

When officers got there, they saw at least one suspect on the roof of the building. Two people fleeing the area were arrested after a short pursuit, authorities said.

The third person left the scene in a car and was pursued by officers to Marlboro Street, where he parked near the corner of Marlboro and Prescott streets and left the vehicle, authorities said. After an officer briefly pursued the man on foot, he got back in his car and attempted to escape, and two officers fired at the vehicle, killing the man, authorities said.

The car crashed head-on into a telephone pole and one neighbor on Marlboro Street said he heard five gunshots.
Too bad the Bear Cat wasn't here to protect Keene from this situation.
Before anyone jumps on me, yes, I know that ANY job comes with perks. Things like free cheeseburgers for the McDonald's staff, the use of the company car for a CEO or whatever one's trade might be, it most likely comes with some perk. When employed by the government though the perks get really good.
While a large number of those accused of a crime face questioning, time in jail and hefty legal expenses those employed by the government rarely face their own wrath. I could go on and on about public officials that commit cold blood murder, rape and theft but I'd like to point to a closer incident.
Last June I was arrested while asking Edward Burke – who's employed as a district court judge in Keene, NH – three questions about him enforcing contempt charges on people wearing hats in a public courtroom (and here)? Edward first stated that I had threatened him, which was completely false (as seen in the video), and tried to get out of it the only way he knew how – lie. Which is why I asked "the system" (aka Keene Police) to investigate Edward for filing a false report with law enforcement (or lying to them effect an arrest). After being passed around from the Keene Police to the New Hampshire Attorney General's office, the file finally landed on Marc Hathaway's desk – who's employed as a NH county attorney. It took Marc over six months to write his review.
One of our best episodes yet.
On this weeks episode:
1. Bearcat Conclusion
2. Ali Haven's Editorial on the Bearcat situation
3. Keene residents Pete Eyre and Ademo Freeman on John Stossel's Illegal Everything show
4. Derrick J Freeman presents a video and commentary about his recent interactions at a Keene area school
5.  Adam Kokesh's The Message of Freedom in One Minute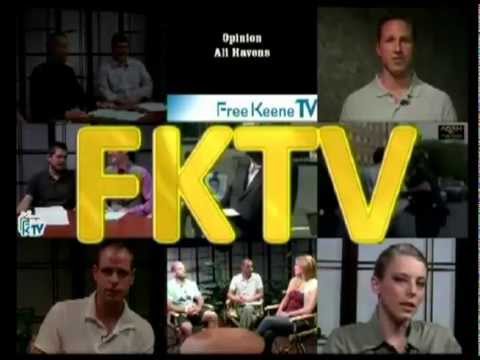 Email your news tips and suggestions to multiple bloggers at News at FreeKeene.com