If you loved last week's debut of AKPF #1, you're going to be anxious for next week after you see the latest episode of Cheshire county's hottest new variety series. Now available through AquaKeene, Free Concord is pleased to present episode 02, Monolith.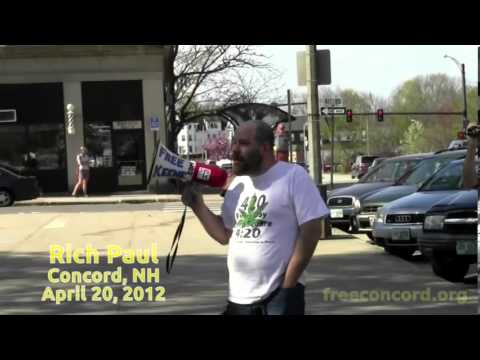 1. 00:10 Opening AKPF/ATHF Crossover Ska Theme
2. 01:40 Graham introduces the first submission by Trotting Bear Studios Martial Arts and Fitness Center

3. 02:22 Nintendo Mario Super Robin Hooding Video Game
4. 06:07 Fancy Pants People's science universe hour with special guest Michio Kaku
4. 14:09 The latest from the Rich Paul trial courtesy http://freeconcord.org
5. 28:22 Closing credits with Sarge Stern and MJ
Special guest host Graham Colson reps the AKPF #1. Ep. 03 premieres May 27 2013.
Prince John, on behalf of his court jesters and their enforcement units, has penned a desperate response to the global outpouring of support received by Robin Hood and the Merry Men following the royalty's frivolous lawsuit against us. Through a royal proclamation published in Saturday's Sentinel, the Prince builds upon his deceitful characterization of individuals that he first perpetuated in a Keene Sentinel cover story over a month ago. Prince John continues to demonize those who participate in Robin Hooding, conflating our actions to 'intimidation' and 'harassment'.
Considering the amount of self-righteous fluff sandwiching the Prince's sentences, royalty seems to understand the extent to which they have dug themselves into a hole with a baseless lawsuit against six activists. Whatever the city's true motives, we can trust in our leaders that this action had "nothing to do" with revenue. "The city has no interest in whether or not these or other individuals wish to pay the parking meters, and no claim about this practice is made in the legal action…This is definitely not about parking meter money. On behalf of your mayor, Kendall Lane, your elected city councilor, and your dedicated city employees, we are all honored to work for you and this wonderful community," MacLean assures. Fancying himself an omniscient ruler of his subjects, the Prince even alleges that he can peer into the minds of those he sues. Weaving two different interpretations of the motives of the Merry Men, the Prince begins, Read more
There was a crackdown at the Smoke Down at the Liberty Bell in Philadelphia yesterday, May 18th, 2013, as police presence was at an all time high, and at an all time low for their violent thuggish behavior, when they forcefully arrested at least four peaceful liberty lovers. Much footage and controversy is coming forward about these arrests of Adam Kokesh, N.A. Poe, NJ Weedman, and Don Dezarn. The latest news indicates that Don Dezarn and the NJ Weedman were released immediately on the spot, with citations. Adam Kokesh was reported by one source to have been released, but other sources say he and N.A. Poe are now detained in the Philadelphia Federal Detention Center, to face arraignment and bail hearings on Monday May 20th.  Here is some of the footage of the whole Smoke Down event, Don Dezarn gets released at 28:41 point in the video,
Rich Paul speaks from jail. Thanks to David C. for the video:
This video originally was posted to CopBlock.org/RobinHood, which also houses related links, video sources, and documents.
The Union Leader's Meghan Pierce has filed a follow-up report about Robin Hooding. Big thanks to Meghan for starting the avalanche of press coverage about Robin Hooding. Her original article was the one that tipped off all the other media that followed. Here's her second report:
KEENE — City officials said a lawsuit against a group filling parking meters before city parking enforcement officers can issue tickets is not about money, it's about safety.

"This is not about revenue. This is not about the city losing any money," City Manager John A. MacLean said Tuesday.

People plugging parking meters with coins, after all provides revenue to the city, he added.

"This has always been about safety and the contract we have with our employees," he said. Read more
Jimmy Fallon jokes about Robin Hooders, specifically Garret's hair, at around 4:30 in to this video:
Over the last few days I've appeared on radio in a few places and more are scheduled for next week. Of course, we've been talking about Robin Hooding:
Ian Interviewed on KSKY-AM by Mark Davis about Robin Hooding:

Ian Interviewed on WXDE-FM with Dan Gaffney:

Ian Interviewed on WSPD-AM Toledo with Fred Lefebvre:

Three weeks from today, on Friday June 7th, 2013, at 1:30pm, friends of Rich Paul will gather to support him at the Cheshire County Superior Court in Keene for his sentencing event. Rich's story continues to make headlines across the land of liberty, and this is getting the spotlight on the sentencing in hope for a more positive outcome, and more help in fundraising for his appeal. Thank you so much to Garry Reed for this great article today on Rich's story posted on examiner.com ,  and an earlier Libertarian News Examiner article put out the truth of Rich refusing to wear a wire or entrap his friends for the FBI. Updates will follow between now and Rich's sentencing.
Thank you to Garrett Ean for his most excellent mashup video,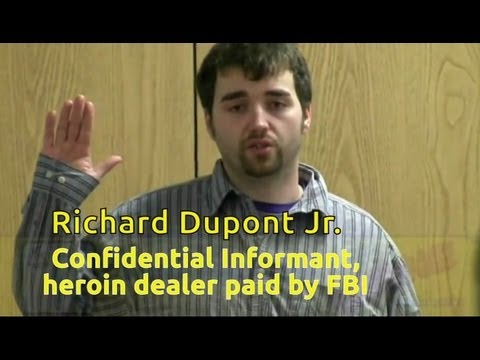 highlighting testimony from Richie the Rat Dupont Jr. to Phil the Perjurer Christiana and other detectives in between. Tune in to how they are each asked similar questions by Defense counsel Kim Kossick regarding who called who to begin this investigation into Rich Paul. Did the NH Drug Task Force call the FBI, or did the FBI call the DTF, and then lie under oath about who called who? Since Christiana could not admit under oath that he asked Rich to cooperate, in a similar way that Dupont had been asked to cooperate, then refused to answer questions about the Keene Activist Center, all of that testimony should be stricken, and Christiana charged with perjury and contempt. However, since we choose our battles, this may not be the one we choose, but the truth shall someday set Rich Paul free . . .      Read more
In an entry published two days prior, you may recall reading about two theatrical monologues delivered at the state house which prompted a response from the Concord Monitor and from satirical blogger Susan the Bruce. And now, after one week's wait, both performances are available on the internet for your viewing pleasure! Through the powers of Vimeo, you can see and hear both of the performance pieces as stand-alone orations, in addition to versions accompanied by their cinematic inspirations. Many thanks to Adam and Edgar for interjecting some culture into the otherwise drawn out and dreary budget hearing. Mr. Sutler's performance is entitled The Law's Coming (also with cinema overdubs).
Send your news tips and suggestions to multiple bloggers at News@FreeKeene.com