Despite a fine performance by New Hampshire Civil Liberties Union attorney Barbara Keshen, the sad, obedient jury did what the state wanted and convicted the Trespassive Three of Occupy NH for "Criminal Trespass" for the crime of exercising their rights to free speech and assembly after 11pm in Manchester's Veteran's Park.
The jury's guilty verdict basically says that a city ordinance can trump the constitutional supposed "protections" for the rights we allegedly have as human beings. It is a terrible decision against their fellow human beings.
After the trial, several activists awaited the release of the jury and attempted to offer cash for a quick interview. They were not having it, one even saying "we're not talking to you" which is a strange thing to say, since she was walking alone when she said it. (I didn't record that interaction.) Were they instructed to not talk to us? One juror in the video says they weren't given such an instruction, but I have to wonder if that is true.
The juror who speaks to us later is not shown in the video, at her request. Could that be because she was ashamed of what she did? She decided to talk to us only after all the other jurors and court security had left. Read more
Yesterday I was engaged in conversation with Keene police's Fintan Moore regarding a small chalking that was cleaned off of a barrier wall on a parking garage ramp downtown. Supposedly the city attorney considers there to be legal protection for sidewalk chalkings, but not chalkings on vertical surfaces.
There is a question as to what public property can lawfully be chalked and what cannot. The wall of a handicap ramp at the Manchester district court has been decorated with chalk numerous times in the past as bailiffs have looked on, only acting when the wall of the building itself has been marked. The spot in question in Keene was in a location which would have washed away naturally, and there are plenty of sidewalk areas covered by a canopy which prevents chalk from washing away. While I may not agree with the determination of the city's legal agent, I did inform his messenger that I would relay his communication to the chalking masses. Here's the video of our dialogue.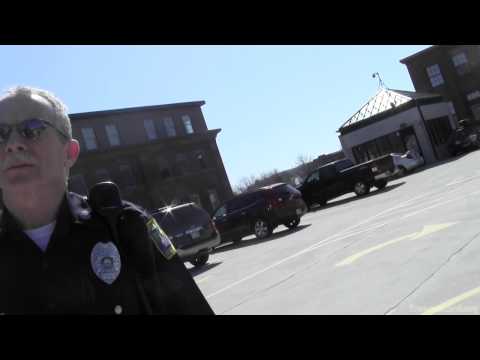 Dave Ridley is back in disobedient mode as he prepares for a showdown with corrupt Manchester officials. From Spirit of Arcadia:
Dave Ridley vows civil disobedience at an April 8th demonstration after attempts by Manchester Mayor Ted Gatsas and a security guard to restrict him from recording in the very public lobby of City Hall.

On March 26th, Ridley was trying to interview local officials including Gatsas who told the independent journalist that he must get permission from the City Clerk's office before recording. According to Ridley, "an enraged security officer shortly appeared and made similar demands." He describes the upcoming demonstration:

"In the absence of some major unexpected event, there will be an anti-censorship demonstration outside City Hall starting 6 p.m. on Monday, April 8. Then I intend to enter the lobby *with* my camera recording and *without* asking permission. I'll try to record, non-disruptively, the outskirts of a City school-committee meeting. I'll likely remain until arrested or until 7:30 p.m…whichever comes first! I invite all peaceable folk to join me."
A very revealing video from Dave Ridley where various Manchester city alderman as well as the mayor express that they don't care about the first amendment:
Today Manchester police sergeant Stephen Coco was fired from the force, where he was reported to have worked on undercover narcotics investigations. Though WMUR reports that it is not clear who was driving the vehicle that hospitalized two teens Friday evening in Bedford, it was confirmed that the car was issued to the MPD officer. Chief David Mara spoke to press to express his shock at the incident.
Bedford police determined that a Manchester police vehicle might have been involved in the hit-and-run, Manchester police said Monday. Manchester police launched an internal investigation and determined that the unmarked vehicle was assigned to Stephen Coco, a detective sergeant working in the Special Investigations Unit.

Manchester police said the internal investigation is ongoing, but based on its findings so far, police determined that Coco violated several departmental procedures. As a result of the findings, Coco was fired. Read more
William Kostric's courageous activism has been featured before on this blog. He's an activist out of Manchester and Free Keene welcomes him as our newest blogger. Here's his bio from the Bloggers page:
William Kostric – Growing weary of petty tyrants in Maricopa County, AZ, William determined to free range outside the confines of the United States. One night while researching the Iraq war, he happened upon the Free State Project forums and found that there were many like-minded individuals spread out across the continent. The idea of gathering in a localized area where a greater impact could be made struck a chord and he signed the statement of intent and made the move in 2008.
William's current projects include Free State Now who's goal is to complete the 20k signers before the end of 2014, The Quill – a libertarian community center in the Manchester area and working with Occupy New Hampshire to build a broad-based coalition of activists who are motivated to take local action towards measurable goals.
Three heroic activists from Occupy NH stood up for your right to peaceably assemble and speak out and were arrested for it, then convicted by a jury of their "peers". This is an over five hour trial RAW footage – there are some real gems in here. I hope someone will take the time to make a highlight reel. Don't miss the exclusive interview with one of the jurors at the end.
On March 21, the two-day trial began in the case of State v Edwards, Grunewald & Richards. The State claims the 3 defendants committed the crime of criminal trespass in a public park on the night of October 19, 2011.
The State began their case by saying "this case is about choices" and said the defendants had 3 choices:
1) remain in the park until 11pm then leave
2) stay in the park past 11pm, receive a citation, then leave the park
3) stay in the park past 11pm, receive a citation, remain then get arrested. Read more
At just about noon today, a Hillsborough County superior court jury returned from approximately an hour of deliberation with a guilty finding against three Occupy New Hampshire activists who did not voluntarily retrieve a citation and were removed via arrest from the temporary intentional community established in Veterans' Park in Manchester's downtown. The three were sentenced to ten days of incarceration at the infamous Valley Street jail, which is deferred on the condition that each completes 90 hours of community service and observes one year of good behavior. One occupier who was cited for curfew violation, but did not receive misdemeanor trespassing charges during the eviction responded,
Dislike, but unshocked. We were essentially asking the jury to find you not guilty on constitutional grounds. They are not constitutional law experts, this is an issue for the supreme court, and hopefully we get to challenge it there… Read more
Manchester occupiers are on trial for criminal trespass today in superior court.  Video is being recorded and updates are being posted on the Free Talk Live Facebook page. Here's the twitter feed for those updates:
Send your news tips and suggestions to multiple bloggers at News@FreeKeene.com