Airing on this MLKjr holiday is a very special edition of the late Shire TV program, guest written, directed, and produced by what would be the future crew of AKPF #1, James Cleaveland and Garret Ean. The two were tasked last year with producing an MLK day episode which would be perhaps the most controversial of the series. After a pre-submission airing by one of the Shire TV's producers, the program was officially banned and censored from the program's history and replaced with a soft ending episode
which misdirects the fluidity of the original creation.
For the first time on Cheshire TV, one year from its originally blocked release, audiences can now enjoy the complete and uncut original episode as its driving creative talents intended it be seen. Enjoy the show, and have a delightfully disobedient Martin Luther King Jr day.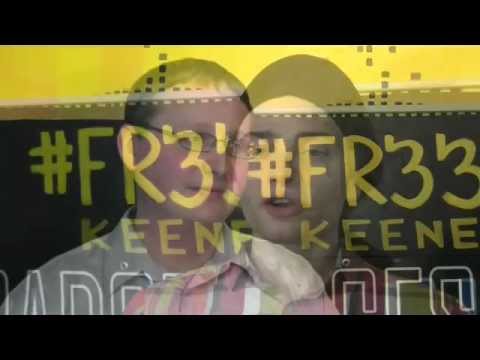 Your AKPF #1 installment this week Adequate Koexistence Personify Flourish is sure to spark continued controversy while informing the civilization of happenings in Keene and around the world. Airing October 14 2013 on Cheshire TV, AKPF #1 features the brave men and women of the Aqua Keene Parking Force official DPRK units exposing and documenting the activities of other central committee authorities and civilians. A Tribe Called Quest snags the intro music slot and rhymes on Midnight. Graham assists AKPF evening patrol featuring reflective safety vest. James and Garret reminisce on the solidarity building of the Occupy movement with pizza and cupcakes in Central Square after the end of the Free Battleground Keene Wars protests. In reflection, the scene of the first day of evidentiary hearings, August 12 2013 is recalled as James and Graham are sprayed with a hose by a bureaucrat trying to execute their chalkings. Robin Hood of Keene uncreative censorship by DPRK affiliates gets fancy pants all wet. Ji (Ji'e'toh Dog, co-host of Black Sheep Rising fame) contemplates a parking meter's utility to the pursuit of his joy. Ridley talks about Jesus interpreted by European standards as applied to Robin Hooding. Ridley ambush interviews the governor about state police misaction, governor Hassan, Margaret does not speak or acknowledge, declines to shake hands of united states military veterans. Chris Sununu encounters the Ridley Cam regarding singing songs in liquor stores and banishment de no trespass orders per NH Liquor Commission. Finally, DPRK officials claiming authority over the AKPF gather before court and Jester Mullins delivers an infamous monologue about putting the truth aside and doing one's institutional duty to "fight on that lie".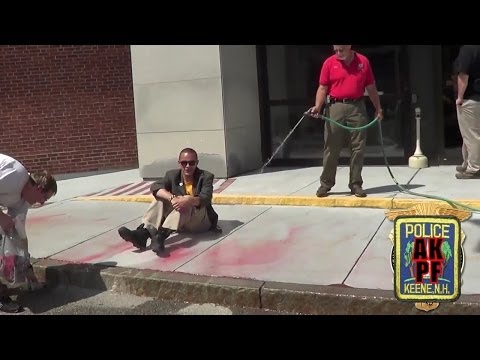 Read more
Ron Helwig writes on his blog why he thinks the movement failed in NH. Did it fail or succeed where you are? Tell us your thoughts on the Peace News Now Facebook Page.
And if you enjoyed that video, you should Subscribe to PNN!
Yesterday's Ridley Report features an analysis of some United States history from the position of principled non-violent anti-aggressionism. It was produced in the wake of a tragic mass casualty shooting in the District of Columbia, which we have since discovered was perpetrated by a mentally disturbed veteran. Not knowing what the motivation for the attack was, the possibility that it may have been terrorism or an act of war lingered until details on the shooter emerged and were confirmed. Below is Ridley's perspective on different aggressive incidents of modern history.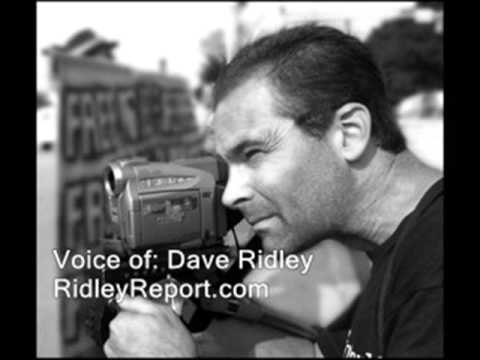 Today #S17 marks the second anniversary of the Occupy Wall Street protests in New York. USA Today reports crowds of around one hundred people gathered in Manhattan's Zuccotti Park, participants report numbers approaching one thousand. Occupy New Hampshire would first assemble on the evening of October 6 2011.
Concord police will be receiving a Ballistic Engineered Armored Response Counter Attack Truck, after an 11-4 vote by the full city council in favor of accepting the military-style vehicle funded by a Department of Homeland Security grant to the Lenco corporation. The fire chief closed the building to many attendees, calling capacity at a reported 70 guests. Drum circles, light shows, sign waving, videography, and socializing occurred in the courtyard outside of the council meeting location on Green Street. Media from around the state observed proceedings both inside and outside of the chambers. Dave Ridley has already posted an ambush interview of Concord police chief John Duval to his youtube channel, in which he asks the top cop if he expected anyone beyond DHS bureaucracy to read his grant application. Ridley's coverage, from which more is to be expected later, is embedded below.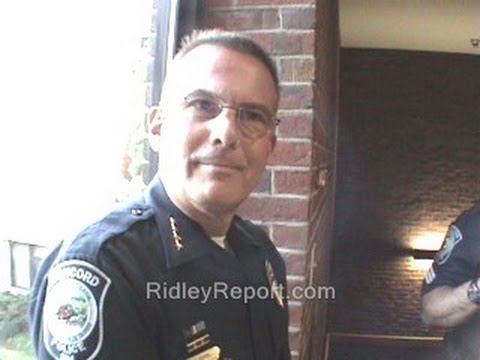 Tony Schinella's article at Concord Patch includes quotes from city councilors on both sides the issue, who were reportedly offered copies of Radley Balko's Rise of the Warrior Cop while they were considering their decision. After word of the vote came out to the crowd, the message on the green beam laser pointed at a nearby steeple read, "BEARCAT FOR SALE CALL 911″. Read more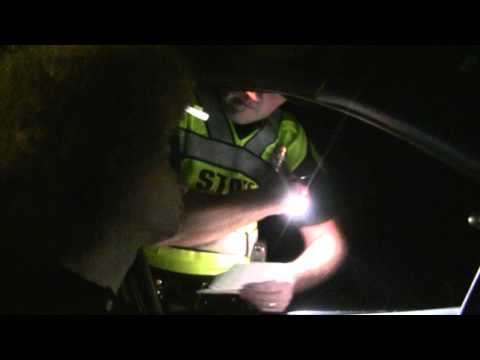 Late into the evening of August 31, the New Hampshire state police established a suspicionless checkpoint on Route 12 in Walpole. The location seemed a strange choice, as the area is notably rural and does not see any heavy traffic. Presumably, this was also the first suspicionless checkpoint established in Cheshire county this year. A detail of about ten state police units and just under that amount of cruisers situated themselves in front of a large Citgo station and waited for drivers to ambush. For most, the checkpoint meant shuffling through one's wallet to find their papers, drowning in a sea of backlighting for about two minutes, occasionally field-testing for sobriety, then being released upon their way.
While it is the position of the state that these sorts of rights-infringing checkpoints promote safety by increasing detection of impaired and possibly reckless drivers, individuals are detained at these checkpoints indiscriminately and during my time at the checkpoint itself, I observed only one car that was permitted to roll through with no detention. Since detentions were not based on suspicion of a driving offense, they essentially violate the fourth amendment of the US constitution as well as liberties enumerated in the New Hampshire constitution, but the framework of a supposedly free people is permitted to be violated so long as a person in a black robe authorizes the indiscriminate stops. Per NH law, the suspicionless checkpoint was announced in advance with a release published in the Keene Sentinel. Knowing that drivers needed additional notice of the checkpoint, activists set up signs warning of the checkpoint ahead and indicating where the final turnoff was to avoid the detention from either approach. Read more
This week's episode of AKPF #1 is again interrupted by global conspiracy. Presented this week is Aqua Kommunity Protest Forum, an elegant glance into the differing perspectives and tactics of the community in advancing peace, liberty, truth, and justice. No DPRK officials arrived in capacity nor royal intervention occurred, and although the program formatted for television is limited in its time to 29 minutes, the entire duration of the event from multiple angles is available from Fr33manTVraw.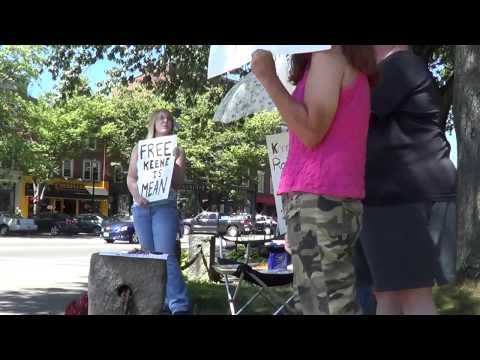 The BEARCAT issue in Concord festers further as the city council prepares for another hearing on the matter next Monday at 7:00pm. Today the Ridley Report published excerpts from a school board hearing which resulted in a decision by the ultimate propagators of all things 'for the children' — the Concord school board — to neither recommend nor block the acquisition of the federal government's Ballistic Engineered Armored Response Counter Attack Truck. Ridley's update includes B-roll footage from recent uploads to Fr33manTVraw as well as James Cleaveland's LightSpeedLiberty channel. An update in last Thursday's Keene Sentinel republished a Monitor article covering the board meeting and decision.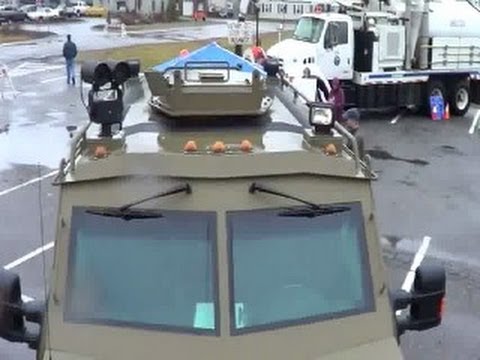 While Robin Hooders prepare to spend a full day in court, this evening Concord city bureaucrats will hold the public hearing on the now infamous BEARCAT grant sought by the police. At 7pm, the public meeting is slated to begin at the council chambers on Green Street. Check out the informative response from Occupy New Hampshire, reformed following the decision to label them a terrorist group by the local police, who gathered to express their opposition to militarism and corporate protectionism. Additional coverage has recently run in Mother Jones, The Washington Times, Common Dreams, and The Boston Liberal. As posted to the Concord-NH.patch.com:
Participants and sympathizers of what was the Occupy New Hampshire movement are shocked to learn that the city of Concord considers us a potential threat to public safety and that we "present daily challenges." In fact, the city considers us such a threat that it filed a fraudulent grant request to purchase a quarter of a million dollar armored attack vehicle to protect the community from non violent activists in this state.

Occupy NH established an explicit nonviolent ethic at its onset. No ONH event has ever witnessed a single act of violence. Furthermore, while Chief Duval claims that this is for the protection of the citizens of Concord, and wonders about the concern of citizens outside of Concord, he made this process a statewide issue and invited non-Concord residents to participate in the discussion and decision making process by targeting statewide organizations such as Occupy New Hampshire, and the Free State Project. Read more
The Concord (NH) PD has applied for a Lenco BEARCAT, according to the Union Leader, the application states "Groups such as the Sovereign Citizens, Free Staters and Occupy New Hampshire are active and present daily challenges," in addition to organized groups, it cited "several homegrown clusters that are anti-government and pose problems for law enforcement agencies."
The NHCLU Executive Director Devon Chaffee said, "It's far from clear to us why an armored vehicle would be necessary to address what are generally, by and large, non-violent movements that in fact provide little or no threat to the security of our state."
Thanks to Devon Chaffee of the NHCLU, I now have a copy of the application, which is being posted for the world to see! Read more
Email your news tips and suggestions to multiple bloggers at News at FreeKeene.com