From PeaceNewsNow.com:
If you follow my blog with any regularity, you know that I produce the comedy news show, ADAM VS THE MAN. Yesterday was one of the most hated and negatively rated videos of my career with AVTM. The reason? I wrote a piece ever so slightly critical of Libertarian golden calf, Ron Paul:

Check out the viewer sentiment shared in the comments section of the video by clicking the thumbnails below: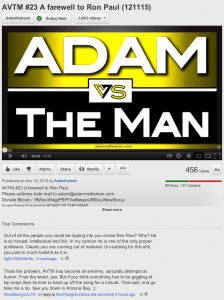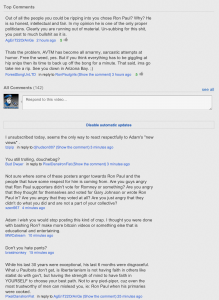 P.S. In this episode, I wrote the Ron Paul segment (with additions by Adam Kokesh) and the Kurdish hunger strike segment. Ali Havens wrote "Bradley Manning takes a plea."
[For a final wrapup - see this post]
We'll track results as they come… how many pro-liberty politicians will be elected?
First results: Michael Sylvia of Belmont, freestater, elected as State Rep!
Losing with almost 1500 votes and 10% of the vote total: FreeKeene's own Ian Freeman. Despite a strong outspoken polarizing activist in Keene, running as a Libertarian, and against 2 Democrats, Ian got more votes than many Libertarians elsewhere in the nation tonight.
Other good liberty leading votes reelected: Guy Comtois, Kyle Tasker, Joe Pitre, Stella Tremblay, and the only Rep (in different years) elected as Democrat, Libertarian, and Republican, Rep. Steve Vallaincourt, all back to Concord.
Carol and Dan McGuire reelected!
AntiFreeStater Lee Quandt loses. Too bad, so sad.
Poster Child (according to the Dems, the sign if the FSP will succeed) Rep. Mark Warden reelected!
Laura Jones wins re-election by 134 votes!
Dual Freestater win in Ward 11 in Manchester, Former Rep. Joel Winters relected as Dem, and Emily Sandblade as Republican!
Still waiting on a few results, but it's getting late. Looks like the 'Freestater' number will remain about a dozen by my rough count, despite a massive leftward shift in the overall House. I'll review and post a longer summary later.
So passed another ubiquitous presidential primary season. The evolution of social media in advancing involvement, as well as disruption and protest in the weeks leading up to the primary was increasingly evident. Whether it was Occupy New Hampshire, undercover Ron Paul supporters, or independent and creative anarchists, the 2012 primary election bloomed into a renaissance for political satire in the granite state. Independent media continues to release intriguing videos and stories from the quadrennial festivity.
One especially overlooked aspect of any primary election is when, like this year, one side of the political divide is a no-contest. Few were shocked that Barack Obama emerged as the highest vote recipient for those who selected the blue-bannered ballot during Tuesday's primary. The incumbent president was listed among 13 other contenders for the democratic party's nomination. This ballot is notable for being shorter than its opposition by 20 names. Aside from the potential provided by the write-in slot, the only other candidate who stood for radical change on the roster was Vermin Supreme. His campaign represented what could have been the most honest and accessible movement for variety that this nation has ever seen.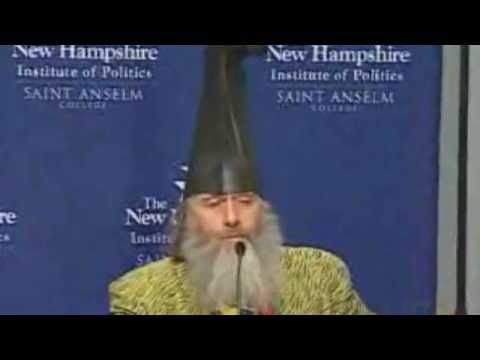 But despite amassing 833 votes, Vermin Supreme was not to earn the coveted position of the new number two. He was narrowly edged out by world traveling Vermont resident Ed Cowan. Ed received 945 votes which put him in second place among declared democrats in the democratic primary. Counting republican write-ins, the second, third, and fourth places go to the second, first, and third placing republicans. Ron Paul's 2,271 democratic write-in votes combined with the official 56,872 votes gained in the republican primary secured him a second place finish in both 2012 New Hampshire primaries.
Bill Gardner's office has released the total vote counts, including legible write-ins. One surprising trend is that the lesser-contested democratic primary had 759 scatter ballots cast, compared to the 257 scatter ballots in the republican race. As the national show hits the road on its ritual tour, one wonders what our neighbors plan as entertainment for visiting politicians in their home states.

This video is made-up of three short parts:
In a recent episode of Freedom Watch, Judge Napolitano talks to Lynn Chong, former chair of the Belknap (NH) County Democrats. Frustrated with Obama's foreign policy, she changed her voter registration from Democrat to independent udeclared and will vote for Ron Paul.
(Bet you won't see this on Blue Hampshire.)
[Update: Jay, in the comments, recommends BlueRepublican.org. It's an interesting site.
A related article in The Laconia Daily Sun provides more info:
"I would definitely call myself a progressive," said Will Hopkins of Belmont [NH], who returned from a tour as infantryman in Iraq to become executive director of New Hampshire Peace Action, a group seeking to end foreign wars and cut defense budgets. "I supported Obama in 2008, but I'm supporting Ron Paul. That's where I'm putting my eggs this year," he said. "A lot of folks in the peace movement are taking a close look at Paul."]
Email your news tips and suggestions to multiple bloggers at News at FreeKeene.com